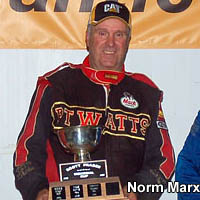 Naples, ME — For the second time in the past three seasons, Mike Rowe won the Atlantic CAT 250 Pro All Star Series (PASS) North Super Late Model race at Scotia Speedworld in Halifax, Nova Scotia.
Rowe, who also won the race in 2005, had his work cut out for him in winning Saturday night's event though. Richie Dearborn led from the pole position and set the pace early on. Last year's Atlantic CAT 250 winner Johnny Clark also led laps, as did a trio of talented PASS North rookies – Derek Ramstrom, Trevor Sanborn and Adam Bates.
With just under 80 laps to go, Rowe used his experience to take over the top spot. He stayed out front and won the race over Travis Benjamin and Clark.
The victory is the fourth of the 2007 season for Rowe and his #2 PT Watts team.
PASS North point leader Ben Rowe was involved in an early wreck and finished 15th, which allowed his father Mike Rowe, currently ranked second in the standings, to gain ground in the race for the 2007 PASS North championship.
The PASS North Super Late Models will return to action Sunday, August 19th at Wiscasset Raceway (ME).
The 2007 PASS Super Late Model schedules will be highlighted by two major fall events. The PASS 400 weekend at Beech Ridge Motor Speedway (ME) is set for September 23rd-24th and the Second Annual Mason-Dixon Meltdown is scheduled for Concord Motorsport Park on November 16th-17th.
For more information on the PASS South Series, contact Jeremy Troiano at (704) 788-2134; for information on the PASS North Series, contact Mike Twist at (207) 499-2565, and for technical and rules information on all of the PASS tours, please contact Scott Reed at (207) 625-3230.
Also, be sure to visit the official PASS South website at www.racewithpass.com and the official website of PASS North, www.proallstarsseries.com.
PASS North Super Late Models
Atlantic CAT 250
Scotia Speedworld – Halifax, NS
August 11, 2007
Unofficial Results
Mike Rowe

Travis Benjamin

Johnny Clark

Donald Chisholm

Adam Bates

John Flemming

Richie Dearborn

Greg Proude

Trevor Sanborn

Mike Mackenzie

Graham Spinney

Wayne Smith

Gary Bellefleur

Chris Duncan

Ben Rowe

Derek Ramstrom

Frank Fraser

Marty Prevost

Brian Northrup

Shawn Turple

Cy Harvey

Dean MacInnis
Sources: Mike Twist/PASS North PR