SENIOR TOUR BRINGS "THE GOLDEN SPUR SPEEDWAY ALIVE"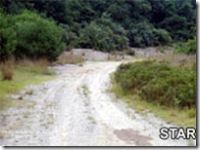 Just like Rip Van Winkle, Lakeville Speedway in Lakeville, Ma has been a sleep for over 30 years. Rip Van Winkle woke in his tatter clothes and long white beard, Lakeville wears is overgrowth of greenery and vines. Thirty years of summer have passed; thirty years of winter snow have passed since the closing of this grand old track, only to be awakening by the roar of bulldozers. As you enter this 5/8 oval dirt Speedway you can see were the track had once been over 60 feet wide now the size of a bike path. No the bulldozers were not going to level and build stores or parking lots like most of the close tracks. The bulldozers were there to give Lakeville Speedway a clean shave.
Yes it is true; Lakeville Speedway is being resurrected for one day. On September 30th the Senior Tour Auto Racers will bring The Lakeville Speedway ?Alive?. STAR president Charlie Lima and Lakeville fans have been clearing up the Speedway gearing up for September 30th when once again Lakeville Speedway will feel the roar and thunder of engines. Stock cars from all over will lineup on the start finish line and circle around the track once more. Drivers of the Lakeville era will be on hand to sign autographs. In the parking lot will be classic cars on display to give the appearance of cars that were park there back in the days when Lakeville ran. In the Lions? clubhouse movies of Lakeville days will be playing. Raffles and auctions will be going on throughout the day. Memorabilia will be on display for the fans to enjoy. Food and drinks also will be on hand. Trophy presentations will be given out to stockcars and classic cars. Don?t miss this one-day event for it may never happen again! Come join the Senior Tour Auto Racers as they bring LAKEVILLE SPEEDWAY ALIVE!!!! Sources: Senior Tour Auto Racers PR
Sunday, September 30, 2007
9:00 AM – 5:00 PM Rain or Shine
Lions Club – 33 Staples Shore Rd. (Off Rt. 105), Lakeville, MA
On the Original Race Track Site!
Vintage Race Cars

Classic Cars

Trophy Awards

Autograph Sessions

Food & Drink

Memorabilia

Raffles

Auction

50/50
For More Information Call 508 999 1480 or e-mail stars62@banet