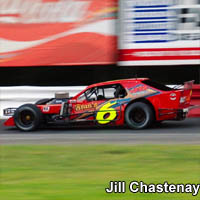 The August 25th Monadnock finish has been slightly altered after further research. Please view the updates on our Results page. Mother nature had the final say Saturday night as the Monadnock Speedway, Winchester, NH; played host to the True Value Modified Racing Series for the final time this season and with the 100 lap race nearing the half way mark, the skies over western New Hampshire opened for the second time forcing a stoppage on lap 42 and the race later declared official by series operatives.
The race program had earlier been forced to stop as a fast moving thunderstorm passed through resulting in a 1 hour 40 minute delay as track personnel scrambled to dry off the high banked quarter mile facility . The tracks management announced that the TVMRS would return on Sept 22 but after further discussion with race teams and series race director Todd Rook, it was decided to call the race an official event. Rook said, "We knew there were more storm cells in the area and we knew we were not going to get back out there to run off 8 laps to make it to halfway, the official lap to call it over. It was a series decision to call it official, not the race tracks. Many of our competitors expressed additional expenses to come back, plus we have a mid week show at Seekonk, a trip to Waterford, and a two day event at Thompson coming up, you have to consider all that, a lot plays into it. If any of those tracks end up using that date (Sept 22) as a rain date it makes it an even bigger problem." Rook stressed, "We apologize to our fans for any inconvenience or disappointment, it was a tough decision." Additional downpours happened shortly after 11:00 PM. Lighting continued to flash around the speedway. The town's curfew also came into play.
The 100 lap "Fenton Family 100" saw 25 modified racers on hand for 24 starting positions. All cars started the event with the lone sidelined competitor, Dale Evonsion, E.Harland, CT; out of the program with a broken oil line suffered in pre race practice.
Connecticut racers Chris Pasteryak, Lisbon, and Mike Holdridge, Madison, brought the field to green with Pasteryak, Todd Patnode, Swanzey, NH; Rob Goodenough, Swanzey, Holdridge and point leader Kirk Alexander, Swanzey, leading the first circuit. At lap 10 Pasteryak was setting a torrid pace with Goodenough now in pursuit of the leader. Alexander moved to third, Patnode fourth, and Holdridge fifth. The top five would be the same at lap 20. Russ Hersey dropped out of the race at that point. Hersey was one of the fastest cars in pre race practice.
The first yellow flag flew on lap 24 for Mike Douglas, Auburn NH; who spun in front of the leaders. Series officials returned the leader to the top spot as it was felt that several cars did not adhere to the passing flag and when Douglas spun, he came together with the leader. It was later learned that Douglas spun out from fluid leaked from a radiator cap that had fallen off his racer.
Lap 27 saw the races first lead change as Goodenough passed Pasteryak to take the top spot and a fast closing Les Hinckley moving into fifth spot from a 24th starting position. Hinckley was passing cars at will on the outside. The race was slowed by the second yellow flag on lap 39 for Tom Abele.Jr. who spun. The lap 30 tally saw Alexander, now in second, Hinckley third, Pasteryak, and Holdridge making up the top five.
Dwight Jarvis, Ascutney, VT; the series defending champion, moved by Pasteryak into fifth spot. Two laps later, Jarvis spun in turn four, went to the pit area, and the skies opened up forcing a stoppage and an eventual determination to call the race official.
At the finish, Goodenough bested Hinckley, Alexander, Holdridge, and Pasteryak, followed by Jon McKennedy, Vinnie Annarummo, Jim Boniface, Ed Dachenhausen and Jimmy Kuhn.Jr. sixth through tenth.
The win by Goodenough was his first with the TVMRS and makes him a guaranteed starter for the North-South Shootout in Concord,NC; Nov 2, 3.
Heat races were won by Pasteryak, Holdridge, and Patnode with Peter Jarvis winning the 12 lap consolation race
Next event for the TVMRS will be the "Town Fair 100" Saturday night Sept 1 at Waterford, CT. Heat races begin at 3:45 PM. Features at 6 PM.
Race Summary:
Monadnock Speedway
Race Time: 24:40
Lap leaders: 1-26 Pasteryak Lap 27 – 42 Goodenough
Sunoco Hard Charger Award: Les Hinckley
Sherwood Racing Wheel Award : Chris Pasteryak
Koszela Speed Award: Vinnie Annarummo
Source: TVMRS PR