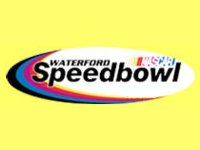 Waterford, CT — It's stretch drive time at Waterford Speedbowl and the spotlight falls on the SK-Modified and Mini Stock divisions heading into Saturday night's five-division program. With just three events remaining on the '07 schedule, both divisions offer tight battles.
In each case it is the defending champions hoping to chase down the current leader and in each case the margin is 20 points. Leader Rob Janovic Jr., a veteran campaigner seeking his first-ever title, leads Dennis Gada, a six-time champion, going into the SK 35 lap feature. Ken Cassidy Jr. has the edge on two-time defending champion Danny Field heading into the Mini Stock 20 lapper.
The Late Models (30 lap feature), Sportsman (20) and Legends (20) are also on the bill, qualifying starting at 5 PM and racing at 7.
Janovic and Cassidy both hope to ride the momentum of strong showings (a second and first respectively) in the point-paying first feature segment of last week's Double Down Shoot Out. Neither can afford to relax as both Gada and Field chase milestones: Gada would be the first seven-time champion in Speedbowl history while Field would be the first to win three-straight Mini Stock titles.
The Legends have a point battle raging as well, teenager Michael Gervais Jr. showing a 24-point lead on Chris Bakaj.
The Bowl's second groove has remained a factor throughout the season, the principal reason for speeds and competition staying high. Four new drivers joined the "win list" last week – Larry Goss (Late Models), Todd Ceravolo (SKs), Walter Hovey Jr. (Sportsman) and Josh Galvin (Sportsman) all used the outside groove.
There are a number of battles going on for important spots within each division, none interesting than the war for third in the Late Models between teammates Ed Reed Jr. and the car owner Goss. "I spend most of the week working on the cars," says Goss, "and then I go out and drive on against the other. " Both were winners last week.
Youngsters Tyler Chadwick and Jeffrey Paul and 30-year plus racer Don Fowler all entertaining hopes for a top five spot in the final SK standings. Two Sportsman veterans, Jim Procaccini and Jack Aquilina, both enjoying great seasons, are contenders for a top three points finish.
The Speedbowl point battles end at the Sept. 22-23 Finale.
Waterford Speedbowl Point Standings

SK MODIFEIDS –1. Rob Janovic Jr., Waterford, 848; 2. Dennis Gada, Salem, 828; 3. Jeff Pearl, Salem, 778; 4. Shawn Monahan, Waterford, 734; 5. Diego Monahan, Quaker Hill, 712; 6. Tyler Chadwick, Ledyard, 684; 7. Jeffrey Paul, Ledyard, 662; 8. Don Fowler, Clinton, 654; 9. Frank Mucciacciaro Jr., Milford, 586; 10. Dennis Charette, Southington, 580.
LATE MODELS: 1. Bruce Thomas Jr., Groton, 940; 2. Ernie Bertrand, N.Branford, 820; 4. Larry Goss, N.Windham, 736; 3. Ed Reed Jr., Waterford, 740; 5. Vin Esposito, Seymour, 712; 6. Dave Zemke, Guilford, 628; 7. Tim Jordan, Norwich, 592; 8. Rich Duranti, Quaker Hill, 564; 9 Anthony Macrino, Waterford, 536; 10. Richard Staskowski, Hope Valley, RI 502.
SPORTSMAN: 1. Dwayne Dorr, Ledyard, 940; 2. Al Stone III, New Haven, 880; 4. Jack Aquilina, Oakdale, 736; 3. Jim Procaccini, Trumbull, 740; 5. Josh Galvin, Gales Ferry, 646; 6. Dan Emery, Gales Ferry, 634; 7. Walter Hovey Scotland, 516; 8. Bill Gertsch Jr., East Haven, 504: 9. Joe Nogiec, Bristol, 468; 10. John Puglisi, Orange; 466.
MINI STOCKS: 1. Ken Cassidy Jr., Lisbon, 900; 2. Danny Field, Deep River, 880; 3. Joe Godbout III, Hope Valley, RI, 864; 4. Phil Evans, Uncasville, 794; 5. Randy Churchill, Norwich, 744; 6. Louis Bellisle, Lisbon, 720; 7. Kyle James, Ashaway, RI, 680; 8. Jack Aquilina, Oakdale, 6040; 9. Soup Civardi, Taftville, 516; 10. Chris Williams, Niantic, 488.
LEGENDS: 1. Michael Gervais Jr., Southbury, 448; 2. Chris Bakaj, Lebanon, 416; 3. Jason Palmer, Berlin, 406;
4. Mark Bakaj, Lebanon, 358; 5. Brian Quimette, Chaplin, 352; 6. Ed Field, Deep River, 336; 7. Max Zachem, Preston, 296; 8.Artie Moran Jr., Preston, 290; 9. Dan Bisignano, Roxbury, 260; 10. Justin Rau, Plantsville, 250.
Sources: Pete Zanardi/Waterford Speedbowl PR