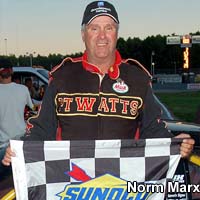 Naples, ME — For the second time in his career, Mike Rowe has become the big winner of the PASS 400 weekend at Beech Ridge Motor Speedway in Scarborough, Maine. Rowe won the headlining race of the weekend, a 300-lap Super Late Model feature, during the inaugural event in 2005 and he repeated that fete again Sunday, by holding off Alan Wilson and Derek Ramstrom for the victory.
Rowe was just one of many drivers who led laps during the race. The list of people who spent time out front of the field included D.J. Shaw, Kelly Moore, Steve Berry, Cassius Clark, Travis Benjamin and Ben Rowe.
Rowe was one of four feature winners on Sunday. J.R. Baril held off Tony Ricci by just inches to win the 100-lap PASS Outlaw Late Model feature, former Beech Ridge Super Sportsman champion Chris Smith won the 50-lap PASS Modified feature. Terry Merrill was awarded the victory in the PASS Pullen Heavy Industries Sportsmen 100-lap feature after Mike Landry crossed the finish line first, but was disqualified for an unapproved engine part.
The PASS North Super Late Models return to action in two weeks, with a visit to All-Star Speedway in Epping, New Hampshire on October 6th.
For more information on the PASS North and South Series, please contact 51 Sports at (704) 788-2134 and for technical and rules information on all of the PASS tours, please contact Scott Reed at (207) 625-3230.
Also, be sure to visit the official PASS South website at www.racewithpass.com and the official website of PASS North, www.proallstarsseries.com.
PASS North Super Late Models
Beech Ridge Motor Speedway – Scarborough, ME
September 23, 2007
Unofficial Results
1. Mike Rowe
2. Alan Wilson
3. Derek Ramstrom
4. Cassius Clark
5. Trevor Sanborn
6. Richie Dearborn
7. Scott Chubbuck
8. Kirk Thibeau
9. Travis Benjamin
10. Rick Martin
11. Ben Rowe
12. Dale Shaw
13. Steve Berry
14. Dave Dion
15. Donnie Lashua
16. Jay Sands
17. Gary Bellefleur
18. Joey Porciello
19. T.J. Brackett
20. John Fleming
21. Mike Fowler
22. D.J. Shaw
23. Katie Hagar
24. Donnie Whitten
25. Bill Rodgers
26. Kelly Moore
27. Johnny Clark
28. Bill Whorff, Jr.
29. Danny Bubar
30. Bub Bilodeau
31. Dan McKeage
32. Adam Bates
33. Chris Kennison
Sources: PASS PR