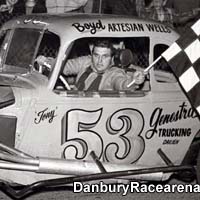 Anthony C. Archiere Sr., 65, of Danbury, devoted husband of Gertrude A. (Carter) Archiere, died at Danbury Hospital on Sunday, September 23, 2007. He was born in Danbury on February 12, 1942, son of the late Pasquale and Dorothy (Sousa) Archiere. He was a lifetime member of the Danbury community.
Mr. Archiere worked as a driver for the City of Danbury Highway Department for five years. Prior to that he owned and operated Archiere Trucking. He was an avid racecar driver and drove #53 at the Danbury Racearina in the 1970′s. He loved the outdoors, camping in upstate New York, and was a Dallas Cowboys football fan. He also enjoyed weekends dirt racing in Lebanon Valley, N.Y.
In addition to his beloved wife of 48 years, Gertrude, he is survived by his three sons: Anthony Jr. and his wife, Denise of Southbury, Joseph A. (Patricia) of Middletown, N.Y., and Mark E (Holly) of Danbury; his three daughters: Lillian Webb (Wayne), Patty Ann Archiere (Michael), and Tina Tomer, all of Danbury; his lifetime friend, Nancy O'Dell of Danbury; eighteen grandchildren, and three great-grandchildren. He is also survived by his three brothers: Patrick, Cary, and Daniel Archiere; three sisters: Marion Sundolf, Donna Conway, and Rosann Dachenhausen; as well as several nieces and nephews.
Funeral services will be held at the Cornell Memorial Home, Thursday, September 27, 2007 at 10 a.m. Burial in St. Peter Cemetery will follow.
The family will receive friends at the funeral home Wednesday, September 26, 2007 from 2 to 4 p.m. and 5 to 8 p.m.
Memorial contributions may be made to the American Cancer Society. To light a candle of hope and remembrance please visit our website at www.CornellMemorial.com.
Sources: NewsTimesLive.com