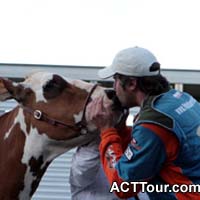 American-Canadian Tour (ACT) stock car driver Patrick Laperle of Montreal earned a convincing victory in the 44th Annual Chittenden Milk Bowl at Thunder Road Int'l Speedbowl in Barre, VT on Sunday. The recently crowned Champion of the Serie ACT Castrol in his native Canada took the win with a dominating nine-point spread over runner-up Ben Rowe of Turner, ME in the three-segment, cumulatively scored race.
"Man, the car was unbelievable all day long. It was fast anywhere I tried to drive it," said the popular Frenchman. "I love Thunder Road, and I love the Milk Bowl." The victory was Laperle's second in the race in three years.
As is tradition, Laperle was greeted in victory lane by a real Vermont beauty, Dickens, a prize-winning Ayrshire dairy cow from Harvest Hills Farm, and planted a kiss on her snout.
"I don't mind doing that if it means I win the Milk Bowl," Laperle joked.
Laperle turned in finishes of second, seventh, and fourth in the Chittenden Milk Bowl's three 50-lap segments for a total score of 13 points (each finishing position in a segment is worth a point value – first place awards one point, second place awards two points, etc.). Rowe's finishes of third, 13th, and sixth gave him a total score of 22 points for the overall runner-up spot. Former ACT Late Model Tour Champion Dave Whitcomb finished third overall (5+18+3=26 points).
Brian Hoar of Williston, VT matched his best ACT finish of the season in fourth place overall (10+15+2=27 points), winning a three-way tie involving Turner, ME's Mike Rowe (13+4+10) and Milton, VT's Brent Dragon (11+3+13). In the event of ties for overall position, the driver with the highest final-segment finish is award the higher overall position.
Cris Michaud of Williamstown, VT (12+10+9=31 points), Roger Brown of Lancaster, NH (9+11+11=31 points), Jean-Paul Cyr of Milton, VT (15+1+17=33 points), and Scott Payea of Milton, VT (8+12+14=34 points) rounded out the unofficial top ten overall finish.
The ACT Late Model Tour season finale takes place at Maine's Oxford Plains Speedway on Sat., October 6 with the running of the New England Dodge Dealers 150. For more information, call (802) 244-6963 or visit www.acttour.com.
UNOFFICIAL RESULTS – 44th Annual Chittenden Milk Bowl
American-Canadian Tour 2007 Event #12 of 13
Thunder Road Int'l Speedbowl – Barre, VT
Pos Car# Driver Seg 1+Seg 2+Seg 3=Total
1 91 Patrick Laperle 2+7+4=13
2 4ME Ben Rowe 3+13+6=22
3 25 Dave Whitcomb 5+18+6=26
4 45 Brian Hoar 10+15+2=27
5 24ME Mike Rowe 13+4+10=27
6 55VT Brent Dragon 11+3+13=27
7 6 Cris Michaud 12+10+9=31
8 99 Roger Brown 9+11+11=31
9 32 Jean-Paul Cyr 15+1+17=33
10 89 Scott Payea 8+12+14=34
11 15 Joey Laquerre 6+9+22=37
12 44 Dave Pembroke 14+24+1=39
13 86 Dennis Demers 17+8+16=41
14 55NH Brad Leighton 25+2+15=42
15 14 Phil Scott 1+14+27=42
16 41 Pete Potvin 23+17+7=47
17 16 Joey Becker 16+23+8=47
18 02 Randy Potter 22+5+21=48
19 97NH Joey Polewarczyk, Jr. 4+27+18=49
20 7ME Glen Luce 7 +16+26=49
21 78 Quinny Welch 24+6+20=50
22 28 Dwayne Lanphear 26+20+5=51
23 17 Eddie MacDonald 21+19+19=59
24 36 Kip Stockwell 29+21+12=62
25 80 Donald Theetge 20+22+23=65
26 42 Matt White 18+26+24=68
27 48 Robbie Crouch 19+25+29=73
28 7VT Eric Williams 27+28+25=80
29 18 Jamie Fisher 28+29+29=86
Sources: ACT LM Tour PR