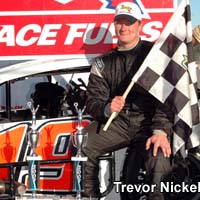 Westfield, NC — Ronnie Silk of Norwalk, CT has been named as the new driver for Hillbilly Racing. Silk, one of the up and coming stars of the NASCAR Whelen Modified Tour is coming off the most successful season of his young career, having earned his first career Tour victory and finished forth in the point standings. He replaces Woody Pitkat who drove the #79 Coors Light Pontiac in 10 races for Hillbilly Racing in 2007.
The move is made with the hope that this will be the beginning of a long successful relationship. "We're looking to build a relationship that will last for awhile," says team owner Roger Hill. "We not only want to win now, but work with a driver who we can have in our car for a number of years. Ronnie Silk is that driver."
Crew Chief David Hill believes this is the next piece of the puzzle as the team tries to return to victory lane on the Whelen Modified Tour for the first time since 2004. "When we made a change in the middle of last season, Ronnie was someone we had a lot of interest it but was committed to another team at the time," said Hill. "As we started to look toward the future when the season ended, it became clear that he was the right fit for us going forward."
Silk, who will be in his third full season on the Tour, is excited and optimistic about the opportunity to drive for the Hill family. "I've wanted to race for a team like the Hill's – who wouldn't," said Silk. "I was hoping to find a ride that I could be in for quite a while and I think this will be that car." As he looks toward the 2008 season, he knows communication will be key to the success. "I'm looking forward to getting to know everyone and begin the communication process. Getting off to a good start will be important. I've never driven a RaceWorks before, but I understand how a racecar should feel and just need to communicate that to the team."
Parting with Pitkat wasn't an easy decision for the Hills. "Woody did a great job last season and gave our team a much needed lift," said David Hill. "We were certainly a much better race team at the end of the year. Woody's going to be very successful in the future, we just believe our best future is with Ronnie behind the wheel."
Silk and Hillbilly Racing will compete full-time on the Whelen Modified Tour as well as select events on the Whelen Southern Modified Tour and the ROC series. The team will begins its season with four nights of racing at New Smyrna Speedway in February. Coors Light and LeBlue Water will return as sponsors for the 2008 season. For more information on Hillbilly Racing, visit www.modified79.com.
Sources: Hillbilly Racing PR.