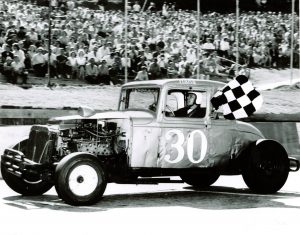 Barre, VT – Harold "Hard Luck" Hanaford, one of the early stars of Thunder Road and a legend of New England auto racing, passed away on Saturday, March 17 after a lengthy illness. Hanaford was 89 years old.
The Plymouth, NH native remains best known as the inaugural winner of the Vermont Milk Bowl in 1962. He added a second Milk Bowl championship in 1964 behind the wheel of his famous purple #30 Ford flathead coupe. It was the same year that he captured the first of back-to-back "King of the Road" titles.
In addition, Hanaford was the 1963 Vermont Governor's Cup winner. He also captured victories at the former Northeastern Speedway in Waterford, VT, his hometown Plymouth Fairgrounds, and other tracks throughout Vermont and New Hampshire. He was inducted into the New England Auto Racing Hall of Fame in 2009.
Continue reading 'Thunder Road Legend Harold Hanaford Dies at Age 89'