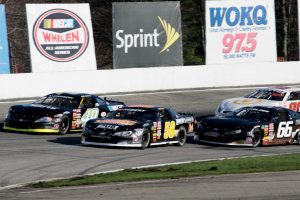 Waterbury, VT – With the 2018 American-Canadian Tour (ACT) season less than four weeks away, anticipation is building quickly for the upcoming campaign. The Late Model stars of the Northeastern U.S. and Quebec will flock to Lee USA Speedway on Sunday, April 15 for the 28th New Hampshire Governor's Cup 150. It will mark the 33rd season of competition for the historic series since its founding in 1986 by the late Tom Curley.
The event has been the scheduled ACT Late Model Tour opener for more than a decade and regularly draws one of the largest fields on the schedule. This year's 150-lap event at the 1/3-mile oval figures to once again be an ultra-competitive affair as teams fight to start the 2018 season on a high note.
Top U.S. drivers such as defending ACT Champion Scott Payea, multi-time ACT winner Jimmy Hebert, and Maine standout Rowland Robinson, Jr. have already officially entered the fray by filing full-season ACT entries. Many more event entries are expected in the coming weeks.
Continue reading '33rd ACT Season Opener Approaching Fast at Lee USA'