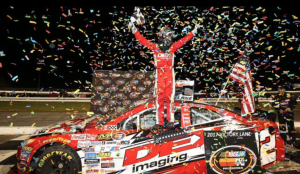 Despite a few rain delays over the course of the day, the NASCAR K&N Pro Series East Division's return to Thompson Speedway Motorsports Park could not be dampened by Mother Nature as the division made it's first appearance at the Big-T since 2009 in style. The brightest future stars of NASCAR took to the historic track for the first annual Busch North Throwback 100 on Saturday, July 8 with several drivers sporting paint schemes honoring the best of the best of the series' past as they honoring the history of motorsports in New England.
The field consisted of numerous series regulars and a few drivers familiar with Thompson Speedway looking to make their own mark by using their experience on the historic oval to their advantage. The day started with a new track record as Chase Purdy topped Martin Truex, Jr's previous record of 20.200 with a lap time of 20.197 in group qualifying, nabbing Purdy his third consecutive pole. Purdy would lead the first few laps of the night's main event, but eventually found himself under attack by Todd Gilliland, son of NASCAR driver David Gilliland, who started on the outside pole and had a dominant car for much of the event.
Despite Gilliland's dominance however, the last 25 laps saw another generational driver rise to the top and find his way to victory lane. Harrison Burton, son of NASCAR staple Jeff Burton, was able to wrestle the lead away in the final quarter of the event after racing side-by-side with Gilliland for nearly five laps before finally completing a pass and never looking back. The win was Burton's fourth of the season, and fourth in the last six races, building on his points lead as he continues to make his mark on the NASCAR K&N Pro Series East Division.
Continue reading 'Burton Takes the Checkered Flag in Inaugural Busch North Throwback 100 at Thompson'