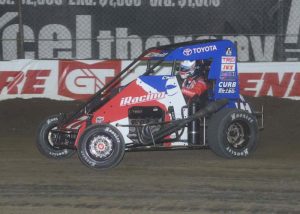 Belleville, IL – The time is once again upon us for midget and micro teams to converge upon I-44 Riverside Speedway in the annual trek to Oklahoma City, Oklahoma for the Fifth Annual Turnpike Challenge.
Kicking off the weekend with racing on Friday, March 23rd and Saturday, March 24th, the POWRi Lucas Oil National Midget and POWRi Lucas Oil West Midget Leagues will be battling to see who comes out on top with bragging rights until the annual Missouri Mid-State Midget Nationals weekend.
An event that always brings out big names, the best of the National and West will be on hand serving up exciting action for both nights. Stars the likes of Seavey, Shebester, Daum, and Chandler will be there. In addition, drivers that cut their proverbial racing teeth at the very track will be there including Andrew Felker, Jason McDougal, and Christopher Bell.