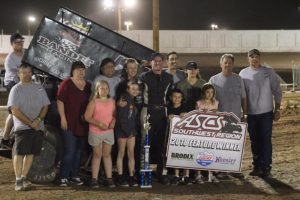 QUEEN CREEK, Ariz. (April 21, 2018) Picking up his third win in four events to start the 2018 season with the ASCS Southwest Region, Colton Hardy charged from eighth to snag Saturday's victory at the Arizona Speedway.
Hardy's eighth career win with the ASCS Southwest Region, the Bandit Racing No. 74 worked from eighth to second in the first 11 laps. Clearing Rick Ziehl for the position, Hardy trailed by just over two seconds as Billy Chester held the point from the drop of the green flag.
Steadily chipping away at the advantage of the No. 2b, Hardy's chance came as the white flag flew, only to have the caution bring the field back to the last fully completed lap. Taking advantage of the restart, Hardy again bolted to the lead on the final revolution to win by 0.983 seconds.
Continue reading 'Colton Hardy Charges to Victory with ASCS Southwest at Arizona Speedway'