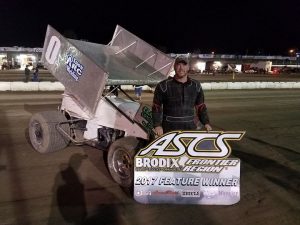 RAPID CITY, S.D. (July 28, 2017) In a race riddled with cautions and red flags, South Dakota's Ned Powers was eventually declared the winner Friday night at Black Hills Speedway with the Brodix ASCS Frontier Region.
Ending three laps of the original 25 lap distance, the race was called when a massive crashed was triggered by the spinning No. 27dd of David Hoiness, who was battling for the lead. Resulting in a driver needing to be transported for medical attention, a replacement ambulance was not going to be unavailable for over an hour so, for the safety of the drivers, crews, and fans the race was called.
Power's fifth overall ASCS triumph, with a trio of wins coming in the former ASCS Rocky Mountain Region, Powers was joined on the podium by Rich Martin and 13th starting, Jeremy McCune, with Clint Anderson and Eric Flatmoe making up the top-five.
Continue reading 'Ned Powers Named Winner of ASCS Frontier at Black Hills Speedway'