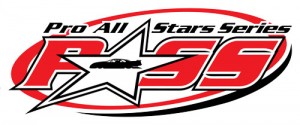 NAPLES, ME — Pro All Stars Series (PASS) President Tom Mayberry announced today that the series will begin airing pay-per-view events online this season. PASS TV will allow race fans around the world to watch North America's premier short track series from the comfort of their own homes. TM Racing Videos will partner with PASS and utilize a multi-camera format to provide a first-of-its kind experience online for short track asphalt racers and fans. Fans will be able to access PASS TV through a link on ProAllStarsSeries.com and can enjoy the racing action from qualifying through the checkered flag. Through PASS TV, racers will be able to get those ever important sponsors the increased exposure that they deserve.
The first event that will be available for purchase beginning later this week will be the 3
rd Running of the Florida Winter Meltdown from New Smyrna Speedway on February 8. Other early season races planned to be broadcast on PASS TV include PASS South events from Greenville-Pickens Speedway, Dillon Motor Speedway, and the Easter Bunny 150 from Hickory Motor Speedway. Events that will be available for purchase will be announced throughout the season on the PASS website as well as the PASS Facebook and Twitter pages.
"We're really happy to announce the launch of PASS TV for the 2014 racing season and we believe that this will revolutionize short track racing coverage for the future," said PASS President Tom Mayberry. "Sanctioning a variety of different series throughout the United States and Canada offers us a great platform of racing entertainment for our fans. Now, when the best from New England and Canada head down South or conversely when our Southern stars head North, their fans will be able to follow them without leaving their homes. We also believe that when fans see the great action being presented on PASS TV it will encourage them to get out and experience the excitement at the races in person."
Continue reading 'PASS to Begin Airing Events on Pay-Per-View Online in 2014′