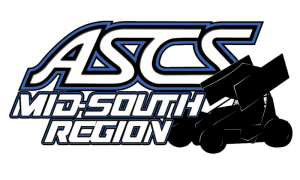 TULSA, Okla. (March 27, 2017) The race may be on April Fool's Day, but that just means you'd have to be a fool to miss the rebirth of the ASCS Mid-South Region as the best of the "Razorback State" take on the American Bank of Oklahoma ASCS Red River Region presented by Smiley's Racing Products at the famed I-30 Speedway in Little Rock, Ark. on Saturday, April 1.
Looking at this Saturday's event at the I-30 Speedway, it conjures a bit of déjà vu as the inaugural Mid-South Regional event in 2006 was also slated for April 1 at I-30 Speedway. Unfortunately, the event fell to rain and was rescheduled to June 3, 2006. Paired with the ASCS Sooner Region, the top spot that night went to Tim Crawley.
Seeing a single season of competition in 2006, Oklahoma's Darren Stewart ultimately picked up the crown in the Bobby Sparks owned No. 91 machine by 127 markers over Tennessee's Bryce Vowan. With the chance to bring the region back in 2017, the series will play inside Arkansas boundaries with dates at five tracks and includes the 30th annual COMP Cams Short Track Nationals.
Continue reading 'ASCS Mid-South and Red River Regions Face Off at I-30 Speedway this Saturday'