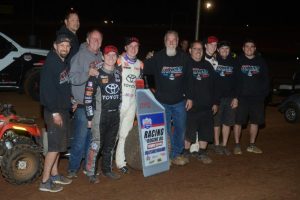 Oklahoma City, OK – If a name was to become synonymous with the Annual Turnpike Challenge, it would be Christopher Bell. Taking eight of the ten POWRi Lucas Oil National and West Midget League Turnpike Challenges, Bell remains undefeated in the event. The two he did not win were because he was not present. At that time, he was testing for the NASCAR truck series and was unable to attend the event.
At the wave of the green flag, Bell took off from the sixth place starting position and charged towards the front with one goal in mind: sweeping the weekend for the Fifth Annual Turnpike Challenge at I-44 Riverside Speedway. Taking over the third position by lap three, Bell settled in behind race leader and Keith Kunz/Curb-Agajanian Motorsports teammate, Logan Seavey and second place Jake Neuman.
Taking the second position from Neuman on lap seven, Bell meticulously hunted down Seavey for the lead. Setting up the driver and engaging in multiple sliders, Bell eventually took over the lead on lap 16, just over the halfway mark, by using a lap car as a block. Charging through traffic for the remaining laps, Bell didn't have an easy feat as Seavey finished second by a car length. Keith Kunz/Curb-Agajanian Motorsports teammate Ryan Robinson took third for a KKM podium sweep of the finale. Zach Daum took fourth, while Tyler Thomas charged to fifth from 15th.
Continue reading 'Bell Sweeps, Remains Undefeated in Turnpike Challenge Competition'