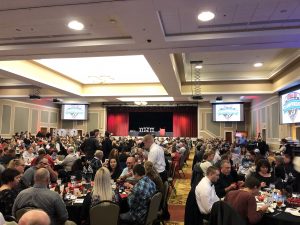 November 18, 2017 – Over $250,000 in cash and contingencies were handed out Saturday night, November 18 at the 2017 Knoxville Raceway Championship Cup Series Banquet! The event, held at Prairie Meadows Racetrack and Casino in Altoona, Iowa played host to over 600 attendees. Tony Bokhoven and Kris Krug presided as Masters of Ceremonies.
The contingency package was headlined by a giveaway of seven chassis. Each owner in all three sprint car classes was awarded a contingency (see prize list with winners below). The Knoxville Raceway Charitable Organization (KRCO) again will provide insurance for all 2017 Knoxville point eligible drivers next season for wherever they may race.  In addition, each driver qualifying for points will receive a $500,000 STIDA insurance policy, a gift certificate to Simpson Racing Products and a Gary Isom Safety Solutions driveline block.
After dinner, Promoter John McCoy and new Marketing Director Kendra Jacobs addressed the attendees. In addition to the thanks doled out to those who make Knoxville Raceway what it is, both expressed their excitement for the 2017 season and beyond.  An emotional video dedicated to late promoter, Ralph Capitani, was played. 
Continue reading 'Over $250,000 in Cash and Contingencies Handed Out at Knoxville Raceway Championship Cup Series Banquet'