Ryan Giles and Kevin Hetrick Win Their Third Features in the 360's and 305's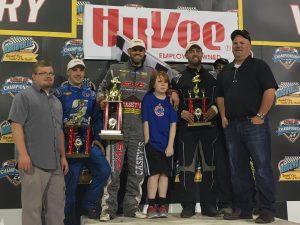 KNOXVILLE, Iowa (May 13, 2017) – Brian Brown tied the "Rim Rider" Randy Smith for seventh on the all-time win list at Knoxville Raceway Saturday night by notching his 35th in the 410 class.  Smith dominated much of the 1980's at Knoxville, winning six track championships between 1979 and 1991.  Brown emulated Smith in riding the cushion after an exciting pass of Ian Madsen to take victory in his Casey's General Stores/FVP #21.  Ryan Giles passed Calvin Landis with two laps to go to claim his third 360 win here, while Kevin Hetrick also claimed his third career win in the 305 class.
Everyone was on the edge of their seats at the start of the 20-lap 410 feature, as front row starters, Ian Madsen and Austin McCarl joined Brown three-wide in turn two in a battle for the lead.  When things settled, Madsen had the advantage over McCarl and Brown.  Brown would pass Austin on the second lap and begin his pursuit of the leader.
Great action ensued back in the pack, while up front Madsen maintained his advantage.  Things were getting interesting at the halfway point in lapped traffic, as Brown closed on Madsen, but with twelve lap in the books, a smoking Davey Heskin would stop in turn four, bringing the caution flag.
Continue reading 'Brian Brown is a "Rim Rider" with Win #35 at Knoxville'