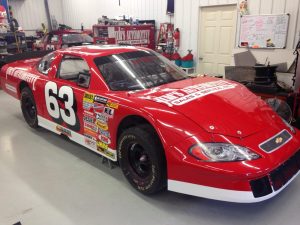 Mount Joy, Pennsylvania (April 10, 2017) – The state of Indiana has always had a presence since the inception of the Super Cup Stock Car Series. That will continue to increase during the 10th Anniversary season with the return of the Crabtree family beginning with the first race at Midvale Speedway (OH) in less than two months.
Jim Crabtree Jr. is no stranger to short track racing and success in the series with a win and third place finish in the standings during the inaugural year back in 2008. Most recently, the Muncie resident won twice and finished runner-up in points in 2013 driving a car owned by Don Gnat.
This year he will be in a Chevrolet entirely owned and prepared out of his own shop. Despite his past success, Crabtree could not give any single particular reason that led to why he decided to come back.
"I don't know; we came across a pretty good deal on some cars and decided to give it another whirl," Crabtree answered. "I always had a good time running the series, and my daughter and wife still like to travel."
Continue reading 'Hoosier State Family Heads Back to SCSCS for 2017'