New England Racer Donates to Support Military Families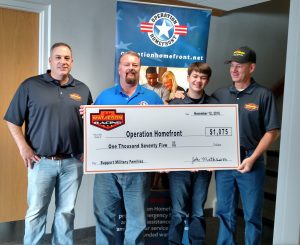 Hillsboro, NH– Jake Matheson Racing, LLC was pleased to present a donation to Operation Homefront, the national nonprofit organization that provides emergency assistance to military families and wounded warriors.
"Our team was honored to support military families this season", Matheson stated. "We are happy to have met our goal to raise at least for $1,000 for Operation Homefront. We achieved this through promotion on multiple social media platforms, offering team gear for contributions to Operation Homefront through our website, and by donating a portion of our winnings."
Our team encourages all our fans to go to www.jakemathesonracing.com to learn more about the important work Operation Homefront does on behalf of our military families.
Continue reading 'Jake Matheson Racing Supports Military Families with Donation to Operation Homefront'