I-79 Summer Shootout concludes Monday at PPMS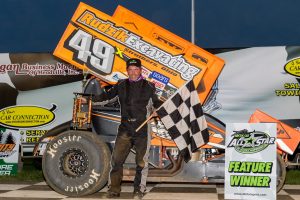 FRANKLIN, PA (July 23, 2017) – After opening the 2017 I-79 Summer Shootout with a runner-up finish at Eriez (PA) Speedway on Friday evening, the "Steel City Outlaw" Tim Shaffer did one better on Sunday night by winning round two at Tri-City Raceway Park in Franklin, Pennsylvania. The Arctic Cat All Star victory, Shaffer's third of the 2017 season and second ever at Tri-City Raceway Park, was earned in dominating fashion; leading all 30 circuits around the Venango County, 1/2-mile oval, ultimately holding off a pair of fellow former Arctic Cat All Star champions, Chad Kemenah and Dale Blaney.
"Hats off to the team. This is what we've been working for," Tim Shaffer said in victory lane. "There are a lot of guys on this team who help make this happen. I couldn't do it without them."
The Aliquippa, Pennsylvania, native jumped to the early advantage from the outside of row one, crossing by the flag stand for the first time with Dale Blaney, Spencer Bayston, and Chad Kemenah in tow. Lap after lap, Shaffer's lead continued to increase, eventually building a 2.6-second cushion before the main event's first caution appeared on lap eight.
Continue reading 'Tim Shaffer Conquers Tri-City Raceway Park for Third Arctic Cat All Star Victory of 2017'