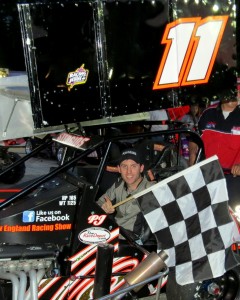 CLAREMONT, NH — P. J. Stergios of Candia, New Hampshire raced to his third win of the year in NEMA Lites action at the Twin State Speedway. This was the second win in a row for PJ after taking down the win at Monadnock Speedway a week earlier. Richie Morocco of Plainville, Mass., was the initial leader until lap three when Andy Barrows jetted into the lead.
It looked like it might be Barrows first win of the year, but Stergios, who started deep in the pack, patiently worked his way forward, finally catching Barrows at the halfway mark. Lapped traffic kept Barrows and Stergios in tight formation, while behind them Kevin Hutchens of E. Waterboro, Maine, Scott Bigelow of E. Hampton, Connecticut and Anthony Nocella of Woburn, Mass. used every trick they could to gain the advantage on each other.
With three laps to go, Stergios in his #11 finally made the move to overpower Barrows, taking the lead for the first time. A lap 23 yellow tightened the field, but on the restart Stergios raced away with the lead and the win. Barrows turned in a stellar performance to finish second, Scott Bigelow and Anthony Nocella cross the line side-by-side with Bigelow getting the nod for third. Paul Bigelow rounded out the top five.
Continue reading 'P. J. Stergios & Todd Bertrand Claim Twin State Victories'