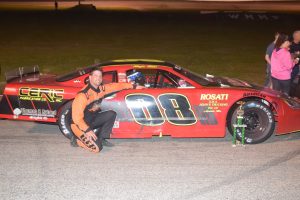 WATERFORD, Conn. — The 2017 Granite State Pro Stock Series season saw one driver capture his second championship. Mike O'Sullivan, a former champion at Thompson Speedway Motorsports Park, wasn't able to visit Victory Lane in the 12-race schedule.
But that didn't matter.
O'Sullivan was consistent enough to roll into the season-finale at New London-Waterford Speedbowl with a four-point lead over Scott MacMichael. While his challengers had trouble, O'Sullivan was calm, cool and collective and finished seventh in the 100 lap feature. He avoided a few crashes and settled in late, knowing he just needed to finish well to become a two-time Granite State Series champion.
Continue reading 'O'sullivan Becomes a Two-time GSPSS Champion'