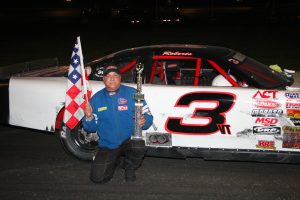 Barre, Vt. — Washington's Ricky Roberts earned his second career Thunder Road Late Model victory and the Maplewood Triple Crown at the Aubuchon Hardware Holiday Spectacular on Monday, July 3.  It was the first Late Model win since 1996 for the veteran driver.
Roberts started on the pole of the 50-lap feature and built a sizeable lead over the pack. However, Northfield's Matt White smacked the frontstretch wall on lap-39 while running third, marking the first of four late-race cautions. The yellows forced Roberts to first fend off Cody Blake and then Bobby Therrien on critical restarts. Roberts kept them and the rest of the field at bay for the win and the $800 Triple Crown bonus from Maplewood Convenience Stores.
Therrien bounced back from some tough recent fortunes to finish second while South Burlington's Trampas Demers came on strong late to take third. Eric Badore and Eric Chase took fourth and fifth, while Blake, Mike Bailey, Darrell Morin, Tyler Cahoon, and Scott Coburn rounded out the top-10.
Continue reading 'Roberts Takes Triple Crown at Aubuchon Hardware Holiday Spectacular'