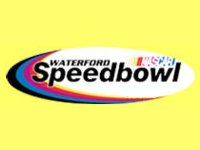 Waterford, CT — Chris Bakaj notched the 20-lap Legends feature on Wednesday evening. Starting mid-pack, he grabbed the lead from Max Zachem with 11-laps remaing, going on to win by several car lengths.Other feature winners were Jon Porter (Super X Car), Craig Miner (X Cars) and, Richard "Bubby" Brouwer (X Modifieds).
"The car was on a rail tonight, no doubt about it," said Bakaj of his third Wednesday night Legends win of the season. "It was a little slick up on the outside, but I managed to get by Max up there early, and that was the key. Max is a tough competitor and never easy to go by."
Jon Porter won his first-ever Super X Car main event. Surviving several late-race restarts, the victory came only a few car lengths ahead of second-place Greg Moran Jr. "Tonight I just kept going and didn't look back," stated an excited Porter in a post-race interview. "If it were not for my crew, I wouldn't be here – they put this thing back together each week so I can go out and drive it."
In the X Car 20-lap main event, Craig Miner started twenty-seventh, and had the lead by lap-five. "I was concerned about all the lapped traffic because something in the car started shaking. Luckily, it all held-together until the end," said Miner. The victory was dedicated to Clarence Burr; an uncle of Miner's who passed away recently.
X Modified action saw point leader Richard "Bubby" Brouwer take his seventh victory of the season. "They've stepped-up their game," said the winner of his fellow competitors. "I had my hands full tonight; these guys are getting tougher and tougher each week."
Once again, Wild 'N Wacky Wednesday attracted over 100 competitors. Concluding the action, over 400 water balloons were thrown on the race cars by enthusiastic youngsters.
X MODIFIEDS (20); 1. Richard "Bubby" Brouwer, 2. David Flammia Jr., 3. Chris Drouin Jr., 4. Garrett Kusman, 5. David O'Leary, 6. Brain DiMartino, 7. Richard Durkee IV, 8. Thomas Rainville. 9. Roger DiMartino, 10. Kevin Shea, 11. Steve Skenyon, 12. Dean Christensen.
SUPER X CARS (20): 1. Jon Porter, 2. Greg Moran Jr., 3. Goerge Correia, 4. Greag Moran Jr., 5. Duke Place, 6. Steve Barrett, 7. Michael Maskell II, 8. John Yagmin, 9. Derek Robertson, 10. Thomas Messore, 11. Al Potter, 12. Charles Beal, 13. Chuck Caddick, 14. Pete Pollard, 15. Robert Norman, 16. Robert Carlson, 17. Rob Corey, 18. Kevin Moon, 19. Steve Jones, 20. Kevin Talbot, 21. Joseph Campbell, 22. R.J. Cunningham Jr., 23. Larry Maskell Jr., 24. Dan Moon, 25. Mark Cooper, 26. Dirk Eykelhoff, 27. Joe Mollo, 28. Brian Norman, 29. Matt Tryon, 30. James Consalvo, 31. Mark Boisvert, 32. Shawn Perkins, 33. Troy Prentice, 34. William Schmitt, 35. Kevin Mason, 36. Brian Brown.
X CARS (20); 1. Craid D. Miner, 2. Bruce Hall, 3. Shawn Salimeno, 4. Dan Madore, 5. Mike Trask, 6. Larry Loomis Jr., 7. Jim Tirrell, 8. David Amspacher, 9. Brad Voglesong, 10. Mark Caise, 11. Wayne Shifflett, 12. David Syren, 13. Patrick Williams, 14. Buddy Strede, 15. Richard Hurne, 16. Wilson Tenrreiro Jr., 17. John Bowes, 18. Peter Zaikarite, 19. Steve Violette, 20. Danny Gervais, 21. Dustin Gage, 22. John Diamantini, 23. Wayne Heon, 24. Steve LaRose, 25. Jim Ross Jr., 26. Nathan Lloyd, 27. Joe Madore, 28. Michele Cicio, 29. Mike Serra, 30. Len Platt, 31. Tyler Pagnotta, 32. Arthur Phillips, 33. Chris Bissell, 34. Jeff Lee, 35. Bobby Broga, 36. Tom Johnston, 37. James Lynch.
LEGENDS (20); 1. Chris Bakaj, 2. Jason Palmer, 3. Glen Billings, 4. Dennis Pantani, 5. Mark Bakaj, 6. Max Zachem, 7. Ryan Morgan, 8. Ed Field, 9. Justin Rau, 10. Carl Blandina, 11. Ricky White, 12. Ben Erlandson, 13. Curt D'Addario Jr., 14. Giovanni W. Giarrantana, 15. Justin Doss, 16. Paul Forbes, 17. Tom McVay, 18. Mark Esposito, 19. Stanley Carpenter, 20. Don Macrino, 21. Adam Gada.
Sources: Dave Dykes/Waterford Speedbowl PR