Plans for 2018 Season Announced
HOLLAND, NY… (January 20, 2018) Holland International Speedway celebrated their 2017 racing season with their annual Awards Banquet, which was held at the Holland Willows. 2017 marked the speedway's 58th consecutive year of racing, all under the ownership of the Bennett family.
Plans for the 2018 season were announced to the crowd that was on hand. "We will be having a full schedule of racing in 2018" commented Track President Ron Bennett Sr. "There is a bright light on the horizon" Bennett added. The schedule is being finalized and will be released in the coming weeks, alongside the date for the Registration Party.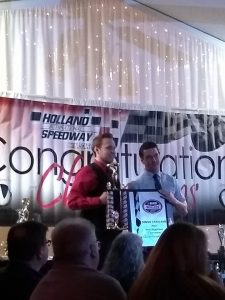 Ontario, NY's Tommy Catalano earned his second straight Getzoni Nationwide Insurance Agency NASCAR Pro Modified track championship. Tommy joins his mother Amy by winning both the Holland and Spencer Speedway track championships in the same season. Two-time feature winner and past divisional champion Neal Dietz Jr finished second in points. Past Holland champion Amy Catalano finished third in points. Scott Wylie, George Skora III, Patrick Emerling, Eddie Hawkins, Timmy Catalano, Andy Jankowiak and Eldon King III completed the top ten in points. Third generation driver Timmy Catalano was named the division's rookie of the year.
Continue reading 'Holland Speedway Honors 2017 Champions at Awards Banquet'