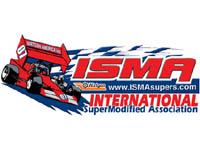 Heading from a successful racing doubleheader at Mansfield Motorsports Park, the ISMA-Wirtgen super series has only a few days before they land in New England at Lee USA Speedway (NH) on Friday Aug. 10 for the Ollie Silva Memorial 75 and then head north to Oxford Plains Speedway in Maine.
A lot of the New England contingent will be right in their backyard at Lee including Mike Ordway Jr., who is just a stone's throw away. And, then there's Perley, Martel, car owner Howie Lane, Dave Sanborn, Justin Belfiore, Jamie Timmons, Eric Emhoff, Joe Petro, and possibly Russ Wood. A couple Mainers are expected at one or both of the shows in Vern Romanoski and the old vet Bentley Warren.
Joining three of the ISMA Supers as a local sponsor for the Miller-Perley 11, the Ordway-Wentworth 10 and the Vic Miller-Bentley Warren 71 is Blink's Fry Doe of Hampton Beach. And, we hear this is not just any fried dough. Most fried dough places offer the usual toppings like powdered sugar and cinnamon sugar… some even serve it with tomato sauce… but nobody, and I mean nobody, has the kind of selection you can find at Blink's. The mind-boggling menu lists 20 different toppings from the standards, to the exotic, to the unbelievably indulgent, all for about three bucks. Some Blink's representatives will be on hand at Lee to meet the drivers and to enjoy the show!
The defending champion of the Silva Memorial is Bobby Santos III, but the big winner at this traditional event which dates back to 1988 is Mike Ordway Sr., Now, after a good weekend out west, Mike Ordway Jr. would like to add his name to the elite list of winners which also includes Russ Wood, Bentley Warren, Joey Payne (who should be in competition in the Cicconi 75), Dave McKnight, Pat Abold and Chris Perley among others.
Things get underway at Lee with pit gates opening at 2:00, warm-ups for the supers from 4:00-5:00 and the first qualifying at approximately 7:15. Lee is located off Rte. 125 in Lee, New Hampshire easily accessed from Route 495.
ISMA returns to Oxford after a two-year hiatus with Chris Perley being the last winner at this Maine 3/8th's mile oval in 2004. Other winners at Oxford have been Nokie Fornoro, Mike Ordway (2) and Bobby Santos III.
Pit gates at Oxford open at 1 pm with grandstands at 4:30 pm. Super warm-ups begin at 2:00 pm with the first heat of the day flagged off at 6:30 pm.
If you're traveling from Lee USA to Oxford, get on Rte. 95 north into Maine to Rte. 495 Turnpike. Take Exit 11, bear right to traffic light, turn left twice to get onto Rte. 26. Stay on Rte. 26 for 26 miles. Oxford Plains is on Rte. 26. Travel time from Lee USA: 2 Hours.
For further information visit www.leeusaspeedway.com or www.oxfordplains.com.
Sources: Carol Haynes/ISMA PR