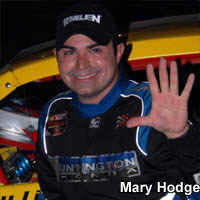 Thompson, CT — Donny Lia will lead the NASCAR Whelen Modified Tour back to the Thompson International Speedway on Thursday, August 16th. Lia will tackle the BUDWEISER 150 presented by the New England Dodge dealers with the same determination that has gained him five wins in eight starts this season. Lia has enjoyed incredible success in one of NASCAR's most competitive divisions.
However, Lia knows that the BUDWEISER 150 at Thompson will be anything but a walk in the park for his Mystic, CT based team. The NASCAR Whelen Modified Tour is loaded with fast cars and very talented drivers and each one of them is looking to best Lia in this annual mid-week racing spectacle.
In fact, since the turn of the century, only two drivers have been able to gain multiple wins in one season at Thompson. Tony Hirschman did it in '03 and Ted Christopher did the same two years later. The competition is fierce and history is not in Lia's favor for a repeat of his June win at the Connecticut oval.
Second generation driver, Matt Hirschman, has blossomed on the "Tour" this season and currently sits in second place in the points standings behind Lia. Former Division Champ, Todd Szegedy is in third place and ICEBREAKER and Twin State Speedway winner James Civali holds down the 4th place. Ronnie Silk has surprised many with his great runs this year and his resulting 5th place in points. Add to these names the likes of Ted Christopher, Mike Stefanik, John and Jimmy Blewett, Ed Flemke and Jerry Marquis and you have the makings of yet another great Whelen Modified Tour race at Thompson.
Joining the "Tour" on Thursday, August 16th will be Thompson's own NASCAR Whelen All American Series race teams in feature only races. The BUDWEISER 150 presented by the New England Dodge Dealers has become a must see race each year and has proven to be one of the most popular at Thompson.
Grandstands will open at and qualifying for the "Tour" is scheduled for Feature races for the NASCAR Whelen All American Series divisions will follow. The BUD 150 is slated for an start. It will be a full night of exciting short track racing and fans will witness a fast-paced program that has made Thompson the chosen destination for weekly racing.
Tickets for this incredible night of hard nosed NASCAR racing may be obtained by calling the Thompson track office. (860-923-2280) The entire schedule for the
BUD 150 presented by the New England Dodge Dealers may be found on the Thompson web page. www.thompsonspeedway.com.
Sources: Russ Dowd/Thompson Int'l Speedway PR