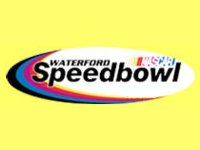 Waterford, CT — In a battle of siblings, it was Chris Bakaj narrowly prevailing over his brother Mark in the caution-filled 20-lap Legends feature on Wednesday evening. Just past the halfway point, Chris took the lead and went on to win by a scant margin.
Other feature winners were Richard "Bubby" Brouwer (X Modified), Steve Barrett (Super X Car), and, Michael Trask (X Car).
"My car was rolling through the corners much better than my brother's car tonight, that was the difference," said Bakaj. "I love this car right now; it's the fastest it's ever been."
Completing the top-5 were Glen Billings, Curt D'Addario Jr., and Jason Palmer.
Steve Barrett won the first Super X feature of his career, after a furious side-by-side duel with Joe Campbell.
"Campbell was tough tonight, but his car was pushing a lot and I was able to take advantage of it," said Barrett. "I've had so much support from everybody, but especially my wife, my oldest son Steven who's my crew chief, and of course, the Moran family. It feels great to finally win one."
Rounding out the top-5 was Campbell, Jon Porter, Greg Moran Sr., and, Greg Moran Jr.
Michael Trask was another first-time winner, as he handily scored the caution-free X Car main event. "The car was really overheating badly tonight, but I decided to push it anyway and managed to keep it off the wall. This win is dedicated to my parents who are both hospitalized right now. After I get out of here, I'm bringing the trophies right down to them at the hospital," commented an emotional Trask from the winners circle.
Point leader Richard "Bubby" Brower scored his eight X Modified feature of the season over David Flammia Jr., Chris Drouin Jr., Kevin Shea, and Bill Gerstch Jr.
"I won that one on the restart," stated Brouwer. "These races are getting tougher and tougher each week. I love racing with these guys, it's gotten so competitive. It's not easy to win in this class."
In the special "Cops & Robbers" event, Mark Cooper prevailed as the "Top Cop", while "Top Robber" honors were taken by Patrick Williams.
Once again, there were over 100 cars taking part in Wild 'N Wacky Wednesday action.
X MODIFIEDS (20); 1. Richard "Bubby" Brouwer, 2. David Flammia Jr., 3. Chris Drouin Jr., 4. Kevin Shea, 5. Billy Gertsch Jr., 6. David O' Leary, 7. Brain Rondeau, 8. Glen Billings, 9. Thomas Rainville, 10. Jeff Parker, 11. David Koshiol, 12. Roger DiMartino.
SUPER X CARS (20): 1.Steve Barrett, 2. Joe Campbell, 3. Jon Porter, 4. Greg Moran Sr., 5. Greg Moran Jr., 6. George Correia, 7. Mark Cooper, 8. James Consalvo. 9. Brain Norman, 10. Charles Beal, 11. John Yagmin, 12. Al Potter, 13. Rob Corey, 14. Bill Schmitt, 15. Kevin Talbot, 16. Tom Messore, 17. Mark Boisvert, 18. Steve Jones, 19. Bob Carlson, 20. Duane Stonier, 21. Mark Caise, 22. Bruce Lee Sr., 23. Rodney Iannotti, 24. R.J. Cunningham Jr., 25. Chuck Caddick, 26. Eric Altmannsberger, 27. Matt Tryon, 28. Michael Maskell III, 29. Duke Place, 30. Dan Moon, 31. Derek Robertson, 32. Kevin Moon, 33. Shawn Perkins.
X CARS (20); 1. Michael Trask, 2. Peter Zaikarite, 3. Patrick Williams, 4. Richard Hurne, 5. Dustin Gage, 6. Tyler Pagnotta, 7. Ken Holbrook, 8. Wayne Shifflett, 9. Steve LaRose, 10. James Lynch, 11. Brad Voglesong, 12. Larry Loomis Jr., 13. Craig Miner, 14. Bruce Hall, 15. John Bowes, 16. John Diamantini, 17. Michael Marvin, 18. Buddy Strede, 19. Dale Treadway II, 20. James Tirrell, 21. Steve Violette, 22. Joseph Madore, 23. David Amspacher, 24. Wayne Heon, 25. Len Platt, 26. Bobby Broga, 27. David Syren, 28. Dan Madore, 29. Art Phillips, 30. Mike Cicio, 31. Jim Ross Jr., 32. Jeff Lee, 33. David Lloyd, 34. Chris Bissell, 35. Mike Serra, 36. Mark Caise, 37. Lou Bellisle IV, 38. Steven Vallieri.
LEGENDS (20); 1. Chris Bakaj, 2. Mark Bakaj, 3. Glen Billings, 4. Curt D'Addario Jr., 5. Jason Palmer, 6. Ryan Morgan, 7. George Whitney, 8. Max Zachem, 9. Dennis Pantani, 10. Mike Alcaro, 11. Donald Macrino, 12. Giovanni W. Giarrantana, 13. Ricky White, 14. Paul Forbes, 15. Tom Pinson, 16. Ben Erlandson, 17. Tom McVay, 18. Justin Doss, 19. Joe Gada, 20. Carl Blandina, 21. Justin Rau, 22. Matt Maring.
Sources: Dave Dykes/Waterford Speedbowl PR