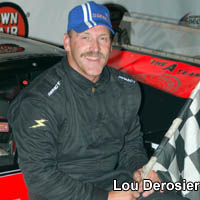 Waterford, CT — Veteran Tommy Fox prevailed over Dennis Gada in one of the closest SK Modified races of the season at the Waterford Speedbowl on Saturday evening. Exchanging the lead numerous times over the final circuits, Fox used the inside lane to keep the defending champion at bay until the checkers.
Other feature winners were Bruce Thomas Jr. (Late Model), Jack Aquilina (Sportsman), Danny Field (Mini Stock), and, Michael Gervais Jr.(Legends).
"Our car was getting worse on the long runs, and Gada's was getting better," stated Fox. "The late-race restarts really helped us out, and gave the car a chance to sort itself out. Luckily, I was able to move ahead of him on the last green, and once there, I just stayed on the inside. I had to in order to keep him behind me. Dennis is a very smart driver, and if you give him an opportunity, he knows how to take advantage of it."
Fox took the lead early, and had built up a sizeable lead before Gada narrowed the gap and shot by on the outside.
Seconds before a caution for a spinning Brandon Hansen, Fox regained the top spot and had to face-off against the defending track champion again a few circuits later.
Continued Fox; "It was undoubtedly one of the most exciting SK races I've ever been in. I swear I wasn't breathing those last few laps, and I'm sure it was exciting for Dennis also."
"Our car was getting better on the longer runs and the restarts didn't help," said Gada. "Tommy had the car for the short-runs tonight, and that was key."
Ron Janovic Jr., Jeff Pearl, and Tyler Chadwick rounded-out the top-5.
Point leader Bruce Thomas Jr. continued his dominance in the Late Model ranks, scoring his 10th victory of the season. "This car is just a rocket ship," said Thomas. "We came here tonight with a new shock package, and it really worked in our favor. We weren't too sure that was going to happen. At the end, I realized Larry (Goss) was back there and almost couldn't believe it. After what happened to him earlier, he made a heck of a run to get back up toward the front."
Following Goss was Ernie Betrand, Ed Reed Jr., and, Richard Staskowski.
Jack Aquilina notched his fourth Sportsman triumph of the season, beating last week's winner Jim Procaccini by a comfortable margin.
"Tonight is my 17th wedding anniversary and I'd like to dedicate this win to my wife Lori who's always been so supportive of my racing," stated a happy Aquilina. "After last week's big wreck, it's great to have a good run, never mind a win. The car was junked. It took a lot of nights to get it back together, and needless to say, I'm pretty happy about this."
Behind Procaccini it was Al Stone III, Dewayne Dorr, and, Kevin Williams.
Defending Mini Stock champion Danny Field won for the second week in a row, narrowly defeating Joe Gobout III. A late race restart set the stage for a classic Speedbowl battle, with Field & Godbout finishing nose-to-tail.
"It was a good race. Joe is a really great guy to run with and very fast this year," stated Fields. "I tried to keep my car to the inside and at first it wasn't sticking. I had to use an entirely different approach into the turn to keep it down there, but it worked. Tonight, if anyone was going by me, it was going to have to be on the outside."
It was the fifth victory of the season for Fields.
Ken Cassidy Jr., Phil Evans, and, Lou Belisle completed the top-5.
Current Saturday night Legends point-leader Michael Gervais Jr. grabbed the lead mid-race and held-off Jason Palmer and Chris Bakaj to score his second main event of the season.
"I'm still having a hard time taking this all in, being the point leader I mean," said Gervais, a 17-year old high school senior. "This year has been fantastic. We've learned a lot about more the cars recently, and have been working hard on our set-ups. Tonight I had some really fast guys behind me, and that makes it even more rewarding."
Finishing behind Palmer was Chris Bakaj, Justin Holmes, and, Brian Ouimette.
SK MODIFIED (35); 1. Tommy Fox, 2. Dennis Gada, 3. Robert Janovic Jr., 4. Jeff Pearl, 5. Tyler Chadwick, 6. Keith Rocco, 7. Diego Monahan, 8. Rob Summers, 9. Don Fowler, 10. Jeff Paul, 11. Frank Mucciacciaro Jr., 12. Mike Sweeney, 13. Wendell Dailey, 14. Brandon Hansen, 15. Glenn Pressel III, 16. Clifford Fitzgerald III, 17. Matt Gallo, 18. Shawn Monahan, 19. Robert Georgiades, 20. Dennis Charette.
LATE MODEL (30); 1. Bruce Thomas Jr., 2. Larry Goss, 3. Ernie Bertrand, 4. Ed Reed Jr., 5. Richard Staskowski, 6. Dave Zemke, 7. Rich Duranti, 8. Jeff Pearl, 9. Robert Leblanc Jr., 10. Terrance O'Brien, 11. Robert Andreozzi, 12. Rick Nelson, 13. Vincent Esposito, 14. Ron Yuhas, 15. Dennis Botticello.
SPORTSMAN (20); 1. Jack Aquilina, 2. Jim Procaccini, 3. Al Stone III, 4. Dwayne Dorr, 5. Kevin Williams, 6. Mark Lajoie, 7. Ed Clark, 8. Chuck Rogers, 9. Keith Rocco, 10. Tom Shea. 11. Joe Nogiec, 12. Dan Emery, 13. Marl "Bugsy" Bogue, 14. Mark Charette, 15. Ed Lamb Jr., 16. Walt Hovey, 17. Joe Bavolocco.
MINI STOCK (20); 1. Danny Field, 2. Joseph Godbout III, 3. Ken Cassidy Jr., 4. Phil Evans, 5. Lou Bellisle, 6. Randolph Churchill Jr., 7. Kyle James, 8. Jack Aquilina, 9. Ben Bargnesi, 10. Jeff "Soup" Civardi, 11. Nate Appell, 12. Richard Brooks, 13. Christina Cunliffe, 14. Jeff Miller, 15. Chuck Rogers, 16. Ian Brew, 17. Brandon Plemons, 19. Nicholas Pappacoda.
LEGENDS (20); 1. Michael Gervais Jr., 2. Jason Palmer, 3. Chris Bakaj, 4. Justin Holmes, 5. Brian Ouimette, 6. Justin Rau, 7. Carl Blandina, 8. Brian Chambers, 9. Art Moran III, 10. Justin Doss, 11. Dan Bisignano, 12. Adam Gada, 13. Paul Forbes, 14. Ed Field, 15. Jeff Holmes, 16. Mark Bakaj, 17. Art Moran, Jr., 18. Ricky White, 19. Ben Erlandson, 20. Joe Gada, 21. Carl Bohn, 22. Max Zachem.
Sources: Dave Dykes/Waterford Speedbowl PR