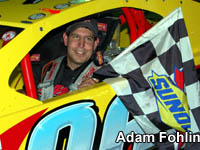 Seekonk, MA — The fastest and fiercest competitors in northeastern Modified racing circles are expected to converge upon the historic 1/3-mile Seekonk Speedway oval this Wednesday, August 29, for the third annual Open Wheel Wednesday program, featuring the Viveiros Insurance-sponsored 100 green flag lap Modified Madness event, an open competition race paying $10,000 to the winner. Last July, forty-two competitors from nine states attempted to qualify for the 26-car race, which carries a purse in excess of $31,000.
Among the drivers who have pre-registered for this year's Modified Madness show are Bobby Santos III, Mike Stefanik, Matt Hirschman, Tommy Cravenho, Vinnie Annarummo, and Dick Houlihan. Santos, 21, a third-generation racer from Franklin, MA, is considered by many to be the best young short track racer in the country. Santos signed to Bill Davis Racing and began competing on the ARCA circuit late last season, has already notched his first pole award and top three finish, and made his debut in the NASCAR Busch Series earlier this year. He'll join forces with Boehler Racing Enterprises, attempting to qualify the famed blue #3.
Stefanik, 49, of Coventry, RI, is a nine-time NASCAR touring series champion and was named the second greatest NASCAR Modified driver of all-time in 2003. He'll be behind the wheel of the Ed Marceau #66 at the Cement Palace. Second-generation ace Matt Hirschman of Northampton, PA, the 2005 Race of Champions Dart Asphalt Modified Tour champion is expected to drive the Darling Racing #59 Modified. The 24-year old currently sits second in the NASCAR Whelen Modified Series point standings.
Bay State natives Annarummo and Houlihan are Seekonk veterans who have conbined to win 87 features at the Route 6 facility. Swansea native Annarummo, a six-time Seekonk champion, won his first ever Modified tour event at the Action Track of the East on June 23 in the Francis Farm-sponsored #12. Houlihan, of Bridgewater, has claimed Seekonk titles in both the Pro Stock and Mini-Modified ranks, and will be piloting the Viveiros Insurance #46. Others who have pre-registered include Tucker Reynolds, Richard Savary, former Seekonk winners Louie Mechalides and Andy Seuss, Chris and Carl Pasteryak, and Jimmy Kuhn, Jr. Defending race winner Kirk Alexander of West Swanzey, NH, former NASCAR weekly racing series national champion Ted Christopher of Plainville, CT, and local favorites including Mike Brightman, Kenny Spencer, and David Berghman are also expected to compete. Qualifying heats and a B-main will set the lineup for the 100 lap affair.
The Northeastern Midget Association will also be on hand for their second visit of 2007. Among the drivers in attendance will be Franklin, MA's Erica Santos, Bobby III's 24-year old sister who became the first female in NEMA's 54-year history to win a race on July 10 at Stafford, CT. Stroudsburg, PA veteran Nokie Fornoro, who copped the $2,000 first place paycheck in last year's event, and series front-runners Randy Cabral of Plymouth, MA, Ben Seitz of Pocasset, MA, winner of the Boston lLouie Seymour Memorial Classic at Seekonk on Saturday, and Fairlawn, NJ's Joey Payne are also expected to enter into the mix. The Pro Four Modified Racing Series is also on the schedule, with qualifying heats and a 25-lap main. Current series point leader Kevin Iannarelli and former Seekonk winner Jeff Zuidema of North Brookfield, MA will be among those vying for the win.The pit area will open at 1 PM on race day with Modified inspections beginning at 1:30 and practice for all divisions running from 2 to 6 PM. Qualifying begins at 7 PM. Grandstand admission is $18 for adults, $5 for juniors ages 13 through 15, and free for children 12 and under. Pit admission is $30. The speedway campgrounds will be open for overnight campers beginning on Tuesday evening. For more information, contact the speedway office at (508)-336-9959 or visit online at www.seekonkspeedway.com.
MODIFIED MADNESS-WEDNESDAY AUGUST 29
1 PM: Ticket booth and pits open/fuel available
1:30 PM: Modified Inspections begin
2:00-2:45 NEMA and Pro Four 1st Practice
3:00-3:45 Modified 1st practice
4:00-4:45 NEMA and Pro Four 2nd Practice
5:00-6:00-Modified 2nd Practice
6:30 PM Modified Drivers Meeting
7:00 PM Modified Heats Begin
Order of Events:
Modified Heats (12 laps each)
Pro Four Heats
NEMA Heats (10 laps each)
Modified B-Main (15 laps each)
Features:
Pro Four (25 laps)
NEMA (25 laps)
Modifieds (100 laps)
No provisionals for the Modified Madness event will be given-all drivers must race their way into the show!
ASSISTANT SCORER POSITION AVAILABLE
Seekonk Speedway is seeking an assistant scorer to begin training now for the 2008 season. Duties may include line scoring, operation of the transponder computer system, and communication with speedway officials and drivers via radio/scanner. This is a paid position with rotating Saturdays and Demo Sunday shows on/off. For more information, please contact the track office directly at (508)-336-9959 or speak to Chief Scorer Jennifer Ready, Race Director Lenny Ellis, or Assistant Manager David Alburn on any Saturday night at the speedway.
FAST FRIDAY HELP WANTED!!!!
In recent weeks, several new faces have offered their help at our weekly Fast Friday Series. Our thanks to former SYRA car owner champion Dennis Hudon for his services this past Friday. Unfortunately, illness and family commitments have caused some others to bow out. Seekonk Speedway is currently looking for additional volunteers to work with our go-kart, Pure Stock, and SYRA divisions on Friday between the hours of 5:30 and 9:15 PM. NO experience is necessary, and weekly attendance is not required- volunteers are welcome to make their own schedule. All of us who work on the Fast Friday program do so on a voluntary basis to support our youth and entry-level divisions. Volunteering can be anything from posting the lineups and finishes on the blackboard to handling tunnel or pit traffic, assisting with the caution flag on the go-kart track, distribution and collection of restrictor plates, scoring, etc. A race reporter/writer is needed for Friday, August 3 as well as I will be unavailable. Anyone wishing to learn more or to volunteer their time, please contact Lenny Ellis, David Alburn, or Todd Baptista by e-mail, phone, or at the track on a Friday or Saturday evening. Your assistance is appreciated.
Sources: Todd Baptista