Seekonk, MA — Local favorite Vinnie Annarummo of Swansea, MA scored the biggest victory of his storied 35-year career at the 1/3-mile Seekonk Speedway oval on Wednesday night, August 29, winning the 3rd annual Viveiros Insurance Modified Madness 100, worth $10,000. Thirty-three competitors from seven different states attempted to qualify for the 100 green flag lap open competition event which carried a total purse in excess of $31,000. Three qualifying heats and a consolation round set the 24-car starting field, with heavy hitters Mike Stefanik, Andy Seuss, and Tony Ricci among those who failed to qualify. Jon McKennedy led the initial go-around of the main event before Chuck Hossfield took over, bringing Chris Pasteryak with him into second.
Pasteryak worked the outside groove to get around Hossfeld on lap 13, five circuits before a Woody Pitkat spin brought out the first of four cautions. Ted Christopher took third from McKennedy on the restart and was soon joined inside the top five by Richard Savary and Annarummo, who started tenth. Further back, second generation ace Matt Hirschman was on the move, coming from the 23rd starting spot to 10th in the first 27 laps.
[Photo Gallery] by Adam Fohlin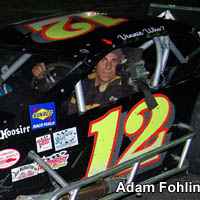 Annarummo took third from Christopher on lap 35 while Hirschman closed to eighth. Pasteryak navigated his way through heavy lapped traffic at the midway portion of the race while Annarummo, turning the fastest laps of the night, began to pressure Hossfeld for second. Christopher ran fourth, ahead of McKennedy, Savary, Hirschman, Dick Houlihan, Louie Mechalides, and Bobby Grigas III.
Local entry Mike Brightman spun to bring out the second caution on lap 54. Two circuits later, Mechalides' car came to a halt with a flat left front tire, necessitating the third stoppage. After a false start, Pasteryak and Hossfeld dueled side-by-side for the lead for several laps before Chris powered past. McKennedy roared back to life during this next green flag run, passing Annarummo and going to the outside of Hossfeld for second. After a torrid battle for position, Hossfeld and McKennedy made contact coming dsown the backstretch on lap 68, sending McKennedy into the concrete and Hossfeld into the pit area via the black flag.
Hirschman, who had just nipped Annarummo for second, got loose in the outside lane on the restart, allowing Annarummo to slide back around on lap 70. Bobby Santos III spun after apparently locking up the brakes, bringing out the final caution on lap 77. Pasteryak, whose car tightened up in the inside lane, was unable to hold off Annarummo when the green was unfurled again, and surrendered the top spot to the six-time Seekonk champion on lap 79.
In the final laps, Annarummo pulled away from Pasteryak and sailed under the checkers 0.682 seconds ahead to post his 44th career Seekonk win in the Francis Farm #12. "Ten thousand dollars- can you believe it?" the 58 year-old veteran asked from Victory Lane. "This is one hell of a division to drive in. All of the guys raced me clean. We struggled in warm ups this afternoon, but we took a spring rubber out and tonight the car was good." "I got beaten by Vinnie Annarummo at Seekonk Speedway," Pasteryak good-naturedly shrugged after posting a solid second place finish, worth $3,500. "We were tight on the bottom, too, and that hurt us at the end."
Matt Hirschman walked away with $2,500 for third, while Richard Savary pocketed $2,000 for finishing fourth. Ted Christopher finished fifth, followed by Bobby Santos III, Eric Beers, Dale Evonsion, who came on strong in the latter stages of the event, Louie Mechalides, and Dick Houlihan.
The 25-lap Northeastern Midget Association feature went green to checker in just a handful of minutes, with Aston, PA's "Liquid" Lou Cicconi leading every circuit en route to victory. Cicconi averaged 103.007 MPH over the course of the race whiule working his way through a heavy barrage of lapped traffic over the final 15 circuits. Teammate and local favorite Randy Cabral took second at the drop of the green with Bobby Santos III third and Greg Stoehr fourth.
At the halfway point, Cicconi enjoyed a half-straightaway lead over Cabral and Santos, who were struggling to woth the stready stream of lapped traffic. Shane Hammond passed Stoeher for fourth on lap 18 while two-time winner and defending series champ Ben Seitz held sixth. Mechanical woes sidelined Hammond three laps from the finish, but there was no stopping Cicconi and Cabral, who crossed the line first and second, giving Bertrand Motorsports a sweep of the top two spots. Santos was third, followed by Stoeher, Seitz, Nokie Fornoro, Joey Payne, Adam Cantor, Jeff Horn, and Erica Santos.
In the 25-lap Pro Four Modified Series feature, Cory "The Cub" Cleary of Plymouth, MA broke Jeff Zuidema's four-race stranglehold on the top spot, holding off the five-time winner by 17 one hundredths of a second to post his second win of 2007. Brian Vincent led the first 8 laps before David Richardi overhauled the polesitter from the outside lane. Richardi's time in the lead only lasted 6 laps, as Cleary, the grandson of legendary New England racer Leo Cleary, worked his way forward. Cleary started tenth, moved to second at lap 10, and became the race leader as the field was shown 10 laps to go. Zuidema, who started 16th, followed Cleary through traffic all the way to the front, but was unable to initiate a pass for the lead before the checkers waved. Zuidema took control of the lead in the series' championship standings by finishing second, ahead of Norm Wrenn, brothers Rob and Dave Richardi, veteran Dan Meservey, Kevin Iannarelli, who finished in the top 10 for the 10th consecutive race, Vincent, Matt Sagar, and Paul Lausier.
The final Dynamic Doubleheader weekend of the 2007 season begins on Saturday, September 2, at 6 PM, with the weekly Pro Stocks, Late Models, Street Stocks, and a special extra distance-extra cash-extra excitement event for the Sport Truck division, sponsored by Kraze's Speed Equipment of Seekonk, MA. Saturday general admission tickets are $12 for adults and $4 for Juniors 13 to 15 years of age. All children 12 and under are admitted free. Pit admission is $20 for ARC Pit Membership Card holders and $30 for non-card holders. Senior citizen discounts are also available on general admission tickets for all Saturday night races. All guests 55 years of age and older will receive a $2 discount. Guests must present photo identification for proof of eligibility if requested.
At 5 PM on Sunday, September 3, the annual Salute to Summer Demolition Derby Spectacular will feature Spectator Drags, Enduro Drags and Races, Figure 8 Racing, Pure Stocks, Fireworks, and a Demolition Derby. Grandstand admission tickets are priced at $20 with children 12 and under admitted for $5. For more information, contact the speedway office at (508)-336-9959 or visit online at www.seekonkspeedway.com.
Viveiros Insurance Modified Madness (100 laps)
#12-Vinnie Annarummo, Swansea, MA

#15-Chris Pasteryak, Lisbon, CT

#60-Matt Hirschman, Northampton, PA

#27-Richard Savary, Canton, MA

#80-Ted Christopher, Plainville, CT

#3-Bobby Santos III, Franklin, MA

#9-Eric Beers, Northampton, PA

#35-Dale Evonsion, East Hartland, CT

#40-Louie Mechalides, Tynsboro, MA

#46-Dick Houlihan, Bridgewater, MA
Northeastern Midget Association Feature (25 laps)
#47b-Lou Cicconi, Aston, PA

#47-Randy Cabral, Plymouth, MA

#29-Bobby Santos III, Franklin, MA

#26-Greg Stoehr, Bridgewater, MA

#17-Ben Seitz, Pocasset, MA

#4-Nokie Fornoro, Stroudsburg, PA

#45-Joey Payne, Fairlawn, NJ

#7NY-Adam Cantor, Dix Hills, NY

#A1-Jeff Horn, Ashland, MA

#44-Erica Santos, Franklin, MA
Pro Four Modified Series Feature (25 laps)
#4-Cory Cleary, Plymouth, MA

#37-Jeff Zuidema, No. Brookfield, MA

#1M-Norm Wrenn, Brimfield, MA

#12-Rob Richardi, Jr., North Easton, MA

#00-Dave Richardi, North Easton, MA

#11A-Dan Meservey, W. Chatham, MA

#27-Kevin Iannarelli, Maynard, MA

#10-Brian Vincent, West Warwick, RI

#29-Matt Sagar, Seekonk, MA

#07-Phil Lausier, Hudson, NH
Sources: Todd Baptista/Seekonk Speedway PR