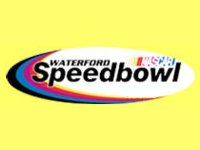 Waterford, CT — Richard "Bubby" Brouwer wasted little time in getting to the front in the 20-lap X Modified feature at the Waterford Speedbowl on Wednesday evening, taking his ninth victory of the season and sewing up the championship.
Other feature winners were Chris Bakaj (Legends), Steve Barrett (Super X Car), Mark Caise (X Car), and, Jessica Miner (Geico Women On Wheels).
"These are the greatest guys in the world to race with, I'm very proud to be champion," stated an elated Brouwer in victory lane. "You don't know how much it means to me to be here. As the season went on, it got tougher & tougher. It's a very competitive division, and the wins are harder to come by each week".
Finishing behind Brouwer was Billy Gertsch Jr., David Flammia Jr., Richard Durkee IV, and David O'Leary.
Chris Bakaj passed Curt D'Addario with three laps remaining to claim the Legends 20-lap main event.
"Our car has been really loose lately, and we made some changes recently to tighten it up," said the winner. "Curt was running a really great race, and I didn't think I would be able to pass him. I had to let the right front cool down a bit to make it stick, and that was what enabled me to get by".
Following D'Addario was Max Zachem, Justin Rau, and Glen Billings.
It went right down to the last lap in the 20-lap Super X Car main event, with Steve Barrett defeating best friend & home town rival Greg Moran Sr. by a scant few feet to claim his second consecutive win.
Barrett, who started the race in 23rd, had the following to say in victory lane; "Just recently, we hit a fantastic set-up. I really didn't think I had a chance, and almost got caught-up in a wreck early. Once I got to Greg, I was able to come out of the turns better than him. As usual, he ran me cleanly; it was a lot of fun".
Rob Corey, Kevin Talbot, and Mark Cooper completed the top-five.
Dustin Gage was the leader for the majority of the 20-lap X Car feature, but things started to unravel in the closing laps. With only a handful of circuits remaining, a series of caution flags tightened the field with Gage lined-up against Peter Zaikarite. Involved in a tangle, Gage eventually faded. Mark Caise executed a last-lap pass on the back chute to overtake Zaikarite for the victory.
"The car was really tight tonight, the new tires weren't making it handle very well," said Caise. "It was a matter of keeping it out of the wall. I didn't think we had anything for Gage and Zaikarite, but all of a sudden I saw smoke up ahead of me, and the track opened up."
Finishing behind Zaikarite was David Syren, David Amspacher, and, Craig Miner.
Jessica Miner emerged victorious in the 15-lap Geico Women On Wheels main event, winning by a comfortable margin in only her first try at wheeling a race car.
"All I could think of was go, go, go, and don't look in the mirror," stated Miner after the race. "This was my first time diving in a race, and it was a lot of fun. I have to thank my dad for placing my car on the pole for me, which helped a lot."
Following Miner was Lisa Vogelsong, Debra Brockett, Kathryn Civardi, and Heather Small.
Once again, there were over 100 cars in competition.
X MODIFIEDS (20); 1. Richard "Bubby" Brouwer, 2. Billy Gertsch Jr., 3. David Flammia Jr., 4. Richard Durkee IV, 5. David O'Leary, 6. Garrett Kusman, 7. Tom Rainville, 8. Steve Skenyon, 9. Brian Rondeau.
SUPER X CARS (20): 1. Steve Barrett, 2. Greg Moran Sr., 3. Rob Corey, 4. Kevin Talbot, 5. Mark Cooper, 6. Jon Porter, 7. James Consalvo, 8. John Yagmin, 9. Charles Beal, 10. George Correia, 11. Brian Norman, 12. Bill Schmitt, 13. Bob Carlson, 14. Phil Smith, 15. Rod Iannotti, 16. Al Potter, 17. R.J. Cunningham Jr., 18. Bob Norman, 19. Chuck Caddick, 20. Kevin Moon, 21. Greg Moran Jr., 22. Tom Messore, 23. Michael Maskell II, 24. Joe Campbell, 25. Duke Place, 26. Chris Rodman, 27. Dan Moon, 28. Mark Caise, 29. Ray Phillips, 30. Matt Tryon, 31. Mark Boisvert, 32. Steve Jones.
X CARS (20); 1. Mark Caise, 2. Peter Zaikarite, 3. David Syren, 5. Craig Miner, 6. Mike Trask, 7. Steve LaRose, 8. Patrick Williams, 9. Joe Madore, 10. Bruce Palmer, 11. Richard Hurne, 12. Jim Tirrell, 13. Len Platt, 14. Wayne Shifflett, 15. Tyler Pagnota, 16. Jim Lynch, 17. Dan Gervais, 18. Mike Serra, 19. Dustin Gage, 20. Bobby Broga, 21. Wayne Heon, 22. Jim Ross, 23. Jeff Lee, 24. Michele Cicio, 25. David Lloyd, 26. Larry Loomis Jr., 27. Buddy Strede, 28. Dan Madore, 29. John Bowes, 30. Dale Treadway II, 31. John Diamantini, 32. Dale Sherman, 33. Tylor DiFrancesca, 34. Atr Phillips, 35. Syeve Valliere, 36. Bob Jette, 37. Shawn Salimeno, 38. Brad Voglesong, 39. Bill Giles, 40. Jeff Mehlenbacher.
LEGENDS (20); 1. Mark Bakaj, 2. Curt D'Addario Jr., 3. Max Zachem, 4. Justin Rau, 5. Glen Billings, 6. Jason Palmer, 7. Chris Bakaj, 8. Ryan Morgan, 9. Brian Ouimette, 10. Ben Erlandson, 11. Don Macrino, 12. Carl Blandina, 13. Darrell LaPoint Jr., 14. Joe Gada, 15. Giovanni Giarrantana, 16. Justin Doss, 17. Paul Forbes, 18. Dennis Pantani, 19. Scott Haag, 20.Stan Carpenter.
GEICO WOMEN ON WHEELS (15); 1. Jessica Miner, 2. Lisa Vogelsong, 3. Debra Brockett, 4. Kathryn Civardi, 5. Heather Small, 6. Nichole Harris, 7. Kim Bickford, 8. Gretchen Ward, 9. Darla Allen, 10. Denise Rorthel, 11. Allosin Maskel, 12. Catherine Smith.
Sources: David Dykes/Waterford Speedbowl PR