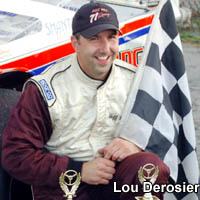 Waterford, CT — Jeff Pearl came from deep in the pack to win the first 25-lap SK segment of the "Double Down Shootout" at the Waterford Speedbowl on Saturday evening.
In the nightcap SK event, it was Todd Ceravolo followed by Dennis Gada, Keith Rocco, Tyler Chadwick, and, Jeff Paul. For the second consecutive year, Gada was the overall "Double Down" winner.
Other feature winners were Kirk Alexander (True Value Modified Series), Ed Reed Jr. and Larry Goss (Late Model), Walt Hovey and Josh Galvin (Sportsman), Ken Cassidy Jr. and Phil Evans (Mini Stock).
[Photo Gallery] by Lou Derosier
Continue reading 'Gada, Reed Double Down Winners'