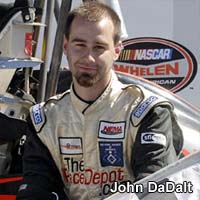 Waterford, CT — Grabbing the lead four laps in, Randy Cabral survived two yellows and a red to score a dominating Northeastern Midget Association victory Sunday at Waterford Speedbowl's Town Fair Tire Finale. It was the second win of the season for Cabral, both at the Speedbowl.
Starting fourth, Cabral tucked the Bertrand #47 inside pole sitter John Zych Jr. coming out of two. Only the yellows and red slowed Cabral en route to his 12th career NEMA win, five of them at the Speedbowl.
"The cautions helped me," said Cabral. "I was driving through the corners so fast I actually thought I was going slow but I was greasing up the right rear a little bit. The cautions cooled it down."
The final yellow flew with two left, Cabral leaving Pete Pernesiglio and Adam Cantor to battle for second, the latter prevailing. Rookie Aaron Wall was fourth, Shane Hammond fifth and Erica Santos, who started 15th, sixth.
"We decided to put a different set up in the car," said Cabral claiming the car had not been right since crashing in practice at the Speedbowl in August. "I actually like taking the lead a little later but I saw my chance and the car was so good I took it. I was
waiting for everybody to catch me."
Ill fortune plagued both title contenders, Ben Seitz and Joey
Payne Jr.
The red showed with seven left when Seitz wound up on his side in the front stretch after a confrontation with Nokie Fornoro. They were battling for second.
Fornoro took second from Zych shortly before the first caution. After the restart, he was battling a motor "bogging down off the corners" and was "pointing to his crew letting them know. I was really mad because now I can't catch the leader."
Sietz, seeking a fourth straight championship, made a bold move inside Fornoro heading into three. "[Fornoro] was waving his arms down the straightaway, gestures like he was slowing down so I passed him on the bottom," said Seitz. "When we came off four he was crowding my lane quite a bit."
"I was on the white line," said Fornoro. "I don't know how much lower you want me to be. Next thing you know [Seitz] he is top of my nerf bar. I've got my feet off everything and I'm being pulled down the front straightaway. We got to a point where I just turned
right. I wasn't taking it anymore."
After exiting the car, Seitz ran down the front straight toward Fornoro sitting in turn four. "A heat of the battle thing," said Seitz who was stopped by starter Steve Grant. He apologized "to the club and to my sponsors. I was disappointed in myself."
Fornoro was sent to the rear. He left the track instead. "I'm not going to do that after I did nothing wrong," he said.
On the restart, Pernesiglio inherited second with Cantor, Payne and Wall battling for third. A blown motor with two left sent Payne spinning into the infield, bringing out the final yellow.
Unofficially, 20 points separate Seitz and Payne heading into Seekonk's DAV Memorial Oct. 6-7.
Sources: Waterford Speedbowl/NEMA PR.