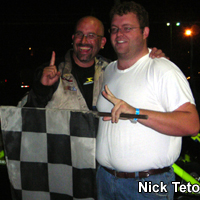 Seekonk, MA — Seekonk Speedway's newly crowned champions David Darling of Rehoboth, MA and Gerry DeGasparre, Jr. of Pawtucket, RI shined on the final Saturday night of the 2007 racing season, notching feature wins in their respective 40-lap Pro Stock and 25-lap Late Model main events. Darling, 28, became the fourth driver in Seekonk Speedway Pro Stock history to capture seven feature victories in a season en route to his second consecutive title while the 38 year-old DeGasparre copped his fifth checkered flag of the campaign to earn his third crown in the past five years.
Dean Pettey led 29 of first 30 circuits of the 22-car Pro Stock feature from the pole. Steve O'Brien, Glenn Lawton, Mike Brightman, and Darling comprised the remainder of the top five after four cautions had slowed the pace inside the first half dozen laps. Lawton and Darling took second and third on a lap 6 restart and were soon joined by previous race winner Kenny Spencer in fourth. Pettey set a blistering pace, hitting heavy lapped traffic by the time the field reached the halfway signal with Lawton second, followed by Darling, Spencer, Brightman, John Dabrowski, O'Brien, and Tom Scully, Jr.
Darling used the slower cars to his advantage, driving under Lawton on the 26th go-around and taking over second. One lap later, Dabrowski spun, pitting Pettey and Darling side-by-side on the restart. When the green was displayed, Darling blasted into the lead, only to be overtaken by Pettey the next time around. A flat tire caused Lawton to spin on lap 29, bringing out the sixth of seven yellows.
When racing resumed, Darling surged ahead again and, despite a couple of taps from Pettey, could not be overtaken. At the finish, Darling finished 0.435 second ahead of Dean to post his 26th career Seekonk victory. "This is for my new, beautiful baby boy, Benjamin, who was born Thursday," Darling announced. "He'll have to have surgery next week, and I hope that this might bring him some luck." The driver expressed his appreciation to the fans that supported the racing events at the speedway throughout the season, car owner Gary Johnson, crew chief Ronnie Pond, and his dedicated crew.
Fred Astle, Jr. rallied back from a lap 3 crash that ripped all of the sheet metal from the firewall forward off the car, went to the outside lane, and drove straight to the front, taking third from Spencer inside the final 10 laps. Brightman was fifth, followed by Rob Murphy and Dave Silvia, who placed seventh in his first start of 2007. New York veteran racer Mike Mortimer claimed eighth in his second Bay State visit with Scully Jr. and Glenn Lawton rounding out the top ten.
Three-time track champion James Lawrence started on the pole in the Late Model event, and led the opening laps with John Dumas and Rookie of the Year contender Matt Breault and three-time feature winner Kevin Casper in tow. Breault used the outside groove to his advantage, driving into the lead at lap 7. Contact at the front of the field sent Breault around on lap 9, triggering a multi-car pileup involving front runners Jeramee Lillie and Randy Clark. Kevin Casper took second on the restart and soon found himself alongside Lawrence in a bid for the lead. Contact was made, Casper went around in turn two on lap 16, and Lawrence was sent to the tail. DeGasparre, who started ninth, and was running third when the yellow waved, inherited the lead, and drove away when the race resumed, crossing the stripe 2.6 seconds ahead of his closest pursuers. For the winner, it was his 15th top-five and 18th top ten finish in 18 starts this year.
Robin Berghman drove by Dumas on the lap 17 restart and put on a great show for the fans, holding off a hard-charging Kyle Casper by 0.29 seconds at the finish to place second. Dumas was fourth, ahead of Bill Bernard, Breault, Mike Becker, Bob Hussey, Kevin Casper, and Randy Clark.
Sixteen year-old rookie sensation Zach Tucan of Taunton, MA passed Hugh Bowser on the 9th go-around of the 20-lap Sport Truck feature and held off two-time track champion Mike Cavallaro to post his third feature win of the season. Manny Dias led the initial go-around before Bowser powered past. Tucan, who started fifth, took second from Charlie Rose on lap 7 and drove under the leader two circuits later. Seven-time winner Adam Murphy went three-wide further back, coming from 15th to 7th in the first 13 laps. Tucan, Cavallaro, and Rose were locked into the top three spots in the final laps while Bowser battled three-wide with Murphy and Andy Jeffery for fourth.
The top three crossed the line nose to tail with the two-time Seekonk Youth Racing Association champ Tucan prevailing for the 22nd time in his career. Cavallaro finished second, recording his 18th top-five in 19 starts to successfully defend his '06 title. Rose was third and Andy Jeffery was credited with fourth after Adam Murphy was disqualified following the post-race tech inspection. Bowser was fifth, followed by Manny Dias, Billy Clarke, Steve Dumas, Lenny Guy, and Karl Bremilst.
The quest for the Street Stock division championship was a dramatic, action-filled journey that was decided by 12 points on the final lap of the 20-lap feature race. In the end, Quincy, MA's John Hanafin sat in Victory Lane for the second time this year while Robert "Sparky" Arsenault of Attleboro, MA copped his second career division title.
Steve Axon, who led the point standings by seven markers coming into the night, turned the fastest lap in the initial afternoon practice but broke a transmission and rear end in the warm-up, had to revert to a back-up car to qualify, and ultimately made the feature by winning the last chance consolation event. Doug Rioux led the first lap of the feature before begin spun, putting Dick Cavallaro in the top spot. Seventeen year-old rookie Mark Henshaw, Jr. took over the next time around and led the next 16 laps while Cavallaro, Patrick Delaney, John Hanafin, and Rey Lovelace all sat within striking distance.
When the caution was displayed for a two-car skirmish on lap 17, Cavallaro was assessed a penalty for the early race incident with Rioux, moving Delaney to second. An incident involving Delaney and Lovelace forced both to the tail, setting up a three-lap shootout with Henshaw and Hanafin in the front row, Arsenault third, and Axon, who had started 19th, in eighth.
Hanafin outgunned Henshaw on the restart and rolled to his sixth career victory. Arsenault passed Henshaw to finish second for his 14th top ten finish of the season and the coveted crown. Mike Lema finished fourth, ahead of George Rego, Billy Brady, Ryan Lineham, Axon, Dan Lineham, and Cavallaro, who bounced back to post tenth.
Attleboro, MA's Jason Arsenault, Matthew Burke of Plymouth, MA, and Jake Spillers of Ashburnham, MA visited Victory Lane in the Fast Friday Series finale while Swansea, MA's Bill Chouinard, Bridgewater, MA's Brian Mondeau, and Tim Brown of Norton, MA were crowned champions in the respective Pure Stock, SYRA 750 and SYRA 600 classes.
Seekonk Speedway 62nd annual season comes to a spectacular conclusion the weekend of October 6-7, with over 650 laps of green flag racing, 10 different divisions, and in excess of $47,000 in purse money and another $5,700 in lap money bonuses on the line for the D. Anthony Venditti Memorial Festival of Racing. Highlighting the card will be a 100-lap open competition Pro Stock race with $3,000 going to the victor, $275 to qualify, and an additional $2,500 up for grabs in lap money awards. The True Value Modified Racing Series, Northeastern Midget Association, and Pro Four Modified Series will also be in action, along with open competition events for Late Models, Street Stocks, Sport Trucks/Four Cylinders, Pure Stocks, and 600 and 750 restrictor-plate SYRA Mini Cups on Saturday and Sunday. For more information, contact the speedway office at (508)-336-9959 or visit online at www.seekonkspeedway.com.
Pro Stock Feature (40 laps)
#52-David Darling, Rehoboth, MA

#57-Dean Pettey, Assonet, MA

#30-Fred Astle, Jr., Westport, MA

#03-Kenny Spencer, Taunton, MA

#27-Mike Brightman, Acushnet, MA

#80-Rob Murphy, Rochester, MA

#36-Dave Silvia, Warwick, RI

#74-Mike Mortimer, Mastic Beach, NY

#2-Tom Scully, Jr., Cranston, RI

#70-Glenn Lawton, Acushnet, MA
Late Model Feature (25 laps)
#71-Gerry DeGasparre, Jr., Pawtucket, RI

#81-Robin Berghman, East Providence, RI

#7-Kyle Casper, Somerset, MA

#40-John Dumas, Brockton, MA

#47-Bill Bernard, Holliston, MA

#20-Matt Breault, Acushnet, MA

#00-Mike Becker, Avon, MA

#80-Bob Hussey, Wellfleet, MA

#88-Kevin Casper, Somerset, MA

#93-Randy Clark, East Harwich, MA
Sport Truck Feature (20 laps)
#3-Zach Tucan, Taunton, MA

#80-Mike Cavallaro, Seekonk, MA

#41-Charlie Rose, Jr., Tiverton, RI

#2-Andy Jeffery, Middleboro, MA

#22-Hugh Bowser, Taunton, MA

#124-Manny Dias, Pawtucket, RI

#1-Billy Clarke, Seekonk, MA

#04-Steve Dumas, Quincy, MA

#77-Lenny Guy, New Bedford, MA

#8-Karl Bremilst, East Wareham, MA
Street Stock Feature (20 laps)
#76-John Hanafin, Quincy, MA

#96-Sparky Arsenault, Attleboro, MA

#17-Mark Henshaw, Jr., Raynham, MA

#39-Mike Lema, Taunton, MA

#1-George Rego, No. Dartmouth, MA

#48-Billy Brady, Marstons Mills, MA

#19-Ryan Lineham, Coventry, RI

#04-Steve Axon, Attleboro, MA

#91-Daniel Lineham, Coventry, RI

#6-Dick Cavallaro, Seekonk, MA
Pure Stock Feature (25 laps)
#9-Jason Arsenault, Attleboro, MA

#01-Scott Cestodio, Swansea, MA

#13-Bob Hinckley, Acushnet, MA

#8-Bill Chouinard, Swansea, MA

#0-Tom Blackwell, Taunton, MA

#53-Vinnie Pangelinan, West Warwick, RI

#47-Mark Boisvert, Uxbridge, MA

#39-John A. Robidoux, Swansea, MA

#36-John Frias, Fairhaven, MA

#11-Nick Uhrig, Warwick, RI
SYRA-750 Feature (25 laps)
#55-Matthew Burke, Plymouth, MA

#22-Brian Mondeau, Bridgewater, MA

#16-Brian Como, Jr., Charlton, MA

#12-Stephen Gardiner, Jr., North Attleboro, MA

#56-Jacob Swift, Fairhaven, MA
SYRA-600 Feature (25 laps)
#6-Jake Spillers, Ashburnham, MA

#8-Chris Igo, North Easton, MA

#5-Casey Sanchez, Providence, RI

#2-Timmy Brown, Norton, MA

#75-Adam Swift, Fairhaven, MA

#95-Kaitlyn Donovan, Waterford, CT

#96-David Hutchins, Jr., Somerset, MA

#7-Justin LaCasse, North Attleboro, MA

#50-Carl Medeiros, Westport, MA

#58-Jake Howes, Carver, MA
Sources: Todd Baptista/Seekonk Speedway PR