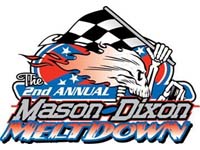 This weekend's Mason-Dixon Meltdown at the Concord Motorsports Park features several different classes: the Super Late Models, Modifieds (PASS and Rolling Thunder sanctions) along with the INEX Legends Pro/Masters and Semi-Pro. Others include the Allison Legacy cars and the Thunder Roadsters.
New England will be well-represented in the Super Late Model division as the inaugural race winner, Cassius Clark, is ready to defend his title. 2007 PASS North champion Ben Rowe and his father Mike, along with Trevor Sanborn, Richie Dearborn, young Derek Ranstrom, Corey Williams are all headed to North Carolina for the big event. Johnny Clark, DJ Shaw, Alan Tardiff, Adam Bates, Ryan Moore and Joey Porciello will also be in the field for the big event to face off with the best the South has to offer.
The PASS/Rolling Thunder Modifieds have at least four new entries as of today including 2007 Thompson Speedway Modified champion Kurt Vigeant. His car will be changed to meet the event rules and be running #44. Other New England drivers are expected in this event.

Sources: Todd Knaperek