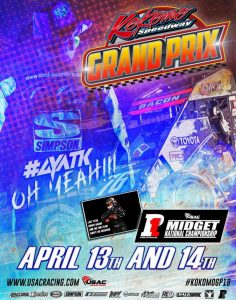 Kokomo, Indiana………Heavy and persistent rain throughout the morning with more precipitation expected for Saturday night has forced Kokomo Speedway and USAC officials to cancel Saturday night's portion of the "Kokomo Grand Prix." There will be no makeup date.
The event was to be round three of the USAC P1 Insurance Midget National Championship season following Logan Seavey's win at the Southern Illinois Center in Du Quoin in March and Tyler Courtney's victory at Kokomo Friday night.
Seavey, a Rookie in the series from Sutter, California, leads the point standings heading into "Indiana Midget Week," a six-race series that includes stops at Montpelier Motor Speedway on May 29, Gas City I-69 Speedway on May 30, Lincoln Park Speedway in Putnamville on May 31, Bloomington Speedway on June 1, Lawrenceburg Speedway on June 2 and Kokomo Speedway on June 3.
All TracPass pit passes for Saturday night's Kokomo event will be refunded.
FIND USAC ONLINE
Visit USAC's official website at www.USACracing.com.
Follow USAC on Twitter at www.twitter.com/usacnation.
Like USAC on Facebook at www.facebook.com/usacracing.
Be sure to follow USAC on Instagram at www.instagram.com/usacnation.
Subscribe to www.loudpedal.tv to view replays of this year's races as well as historical USAC action from the past.
Sources: Richie Murray/USAC PR