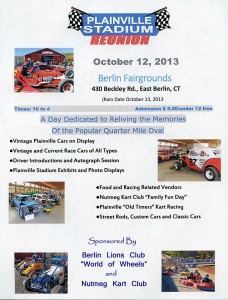 BERLIN, CT — It closed over three decades-ago, but Connecticut's ¼-mile Plainville Stadium is still recalled for hosting some of the biggest names in the business. Drivers such as the legendary "Steady Eddie" Flemke, Denny Zimmerman, Reggie Ruggiero, Charlie Jarzombek, Ron Wyckoff, Ray Miller, the late Dick Watson, and still-more of the sports heavy-hitters all toured the tight, demanding oval during its colorful history.
Add Saturday night regulars such as New England Auto Racing Hall of Fame members Dave Alkas, the late Tony Mordino and George Lombardo, along-with the celebrated Don Moon, Sparky Belmont, & the colorful Tony "Jap" Membrino, and it set the stage for some of the best racing action ever witnessed in the Nutmeg State.
Saturday, October 12th, the Nutmeg Kart Club in conjunction with the Berlin Lions Club World of Wheels presents the Fifth Annual
Plainville Stadium Reunion. The event takes-place from 10am – 4pm at the Berlin Fair Grounds located 430 Beckley Road, East Berlin, Ct. The rain date is October 13th.
Continue reading 'Memories to be Rekindled at Fifth-Annual Plainville Stadium Reunion on Saturday, October 12th'