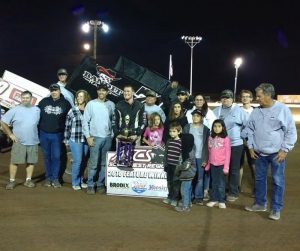 PEORIA, Ariz. (March 3, 2018) Starting his title defense in a big way, Phoenix, Arizona's Colton Hardy led start to finish at Canyon Speedway Park for his sixth career victory with the ASCS Southwest Region.
The second time Hardy has stood atop the podium at the one-third mile Arizona oval in ASCS Southwest competition, the Bandit Racing No. 74 was chased to the checkered flag by Missouri's Hunter Schuerenberg who came from seventh to pick up the runner-up position. El Paso's Don Grable finished out the podium with Matt Rossi and Mason Keefer making up the top-five.
Driving the Bob Ream, Jr. owned No. 8, Lance Norick came from ninth to sixth with Nick Parker following from 10th. Josh Shipley finished eighth with Jesse Baker ninth and Alex Pettas tenth.
Continue reading 'Colton Hardy Wires ASCS Southwest Opener At Canyon Speedway Park'