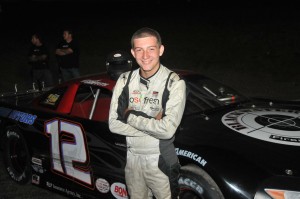 Hudson, NH — Just when most 17 year-olds are gearing up for the prom season and starting to make plans with friends for the upcoming spring and summer, Derek Griffith has one thing on his mind and that is winning.
The young driver has the Granite State Pro Stock Series (GSPSS) title between his crosshairs. After starting off with a fantastic second-place finish at Monadnock Speedway in the 2012 GSPSS season opening race, it's been a roller-coaster ride for the New Hampshire driver.
Griffith missed a good portion of the 2013 season due to unforeseen car issues but the young team were able to bounce back and grab a second-place finish at Hudson International Speedway and a season ending third-place finish at Groveton, New Hampshire's, Riverside Speedway.
Continue reading 'New Car and New Promise for Young Racer Derek Griffith'