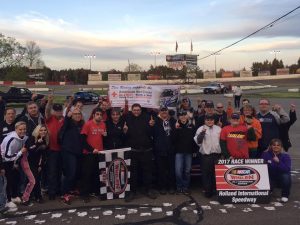 HOLLAND, NY… (May 20, 2017) — Kirk Totten from Barker, NY led all 30 laps to pick up the win in the first feature of the season for the Getzoni Nationwide Insurance Agency NASCAR Pro Modifieds as McKinley Mall presented the 58th season opener at the historic highbanks of Holland International Speedway Saturday night. Tim Welshans from West Falls, NY won the main event for the Bank of Holland Chargers. Bob Palmer from Buffalo, NY won the feature event for the Advance Auto Parts Hornets. Dave Wollaber fromLockport, NY won the feature event for the NYPA TQ Midgets. Bryce Norton from Walworth, NY won the INEX Legends feature event. Darren Lehnardt from West Seneca won the inaugural event for the Talking Phone Book Super Sixes. Marty Hughes from Holland won the M&M U Pull-It Figure 8 car main.
Kirk Totten and Tommy Catalano led the field of Pro Modifieds to the green flag for their 30 lap season lid-lifter with Totten jumping into the early lead, just as his teammate Dean Kroll hit the back stretch wall off the initial green flag. Totten would jump ahead of Catalano when they received the green flag with Patrick Emerling and George Skora giving chase early. Emerling would get around Catalano for second on lap four and would set his sights on Totten. Totten would answer all challenges from Emerling to pick up the win. Catalano, Skora and Eldon King III completed the top five.
Josh Hathaway and Tim Welshans brought the Bank of Holland Chargers to the green flag for their main event with Welshans showing the way. With Welshans up front, he held off multiple challenges from Hathaway as well as his brother Nik Welshans for most of the main event. Tim Welshans would drive away from the field to pick up the win. Nik Welshans finished in second followed by Hathaway, Dave Vona and Zach Myers.
Continue reading 'Kirk Totten Scores Pro Mod Win On Opening Night at Holland Speedway; Bob Palmer Wins Emotional Hornet Feature'