$500 Up for First Timers on Thompson Road Course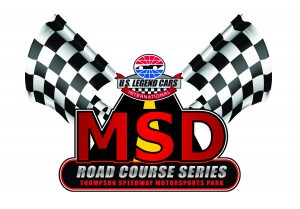 NO. STONINGTON, CT – The Midstate Site Development (MSD) Legends Series already pays handsome $1,300 purses, supported by a strong fuel contingency from New England Racing Fuel. On July 10, first-time racers on Thompson's 1.7-mile road course are up for an additional $500 in bonuses.
The unique program is broken up into four opportunities. In order to qualify, the driver must be competing in their first race on Thompson Speedway Motorsports Park's newly-renovated road course. Twenty dollars will be paid to the first time driver with the fastest qualifying time. Three $160 bonuses will be payable to the highest finishing Masters, Pro, and combined Semi-Pro/Young Lion Division drivers.
"We appreciate Jags Palmer and J & J Racing putting together this unique contingency in order. Jags, Glenn from Midstate, and our loyal drivers are committed to growing our field of US Legends Cars. We're grateful for their enthusiasm and look forward to seeing what drivers may show up to cash in on this unique opportunity," OTB Executive Vice President and Thompson General Manager, Josh Vanada, said.
Continue reading 'J & J Racing to Present Bonus Awards for New Drivers in MSD Legends Series'