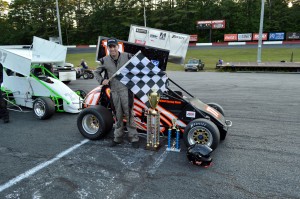 WINCHESTER, NH — Monadnock Speedway in Winchester, NH hosted the NEMA Iron Mike Scrivani, Sr. Memorial Saturday night and a star-studded field put on a classic battle, each looking to add their name to this prestigious race. In the NEMA Lites, PJ Stergios of Candia, NH started deep in the pack and wasted little time charging to the front, but it wasn't an easy march as he had to maneuver his way by the best that the NEMA Lites had to offer.
Two young chargers, Richie Morocco of Plainville, MA and Anthony 'Tornado' Payne of Fairlawn, NJ paced the field to green and Morocco charged to the lead. Instantly, two and three wide battles were common throughout the field. By lap three, Morocco, Kevin Hutchens of E. Waterboro, ME and Christian Briggs of Mattapoisett, MA ran three wide for the lead with Hutchens prevailing.
The first of only two caution flags came on lap seven for a spin, and by that time Stergios had just passed teammate Ryan Krachun for second, but had to give it back because the lap wasn't completed. The restart saw Hutchens and Krachun drag race down the front straight with Hutchins powering back into the lead. By lap 12, Stergios out powered his teammate for second and the three lead cars of Hutchens, Stergios and Krachun ran in a tight draft pulling away from the rest of the field. With the leader board showing halfway, Stergios made his move and shot by Hutchens for the lead.
Continue reading 'Stergios, Cabral Claim Iron Mike Scrivani, Sr. Memorial Hardware.'