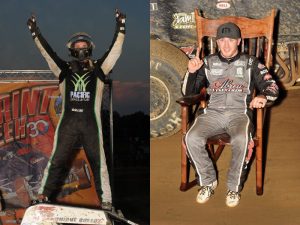 Putnamville, Indiana………Separated by just 23 points entering Sunday night's Indiana Sprint Week presented by Camping World feature at Lincoln Park Speedway, Kevin Thomas, Jr., and Robert Ballou each knew what was on the line.
Win the race and the points will take care of themselves is the motto you'll often hear, but as the race wore on, the two ISW title contenders would find themselves on two separate paths: Ballou with a stranglehold up front and Thomas attempting to overcome a tumultuous beginning that, at one point, had him teetering on the edge of squandering the title.
Ballou maintained his presence at the front for all but the first lap to score his second USAC AMSOIL Sprint Car National Championship victory of the season while Thomas, having to finish eighth or better, thrived in the final eight-lap stretch to finish a hard-fought fifth to win the ISW points title, a feat he came so close to accomplishing in 2013 when he led the standings entering the final race of the series before seeing it slip away, something he wasn't going to let happen this time around despite a turbulent road to get there.
Continue reading 'Ballou Bags Putnamville Finale; Thomas Takes Indiana Sprint Week Title'