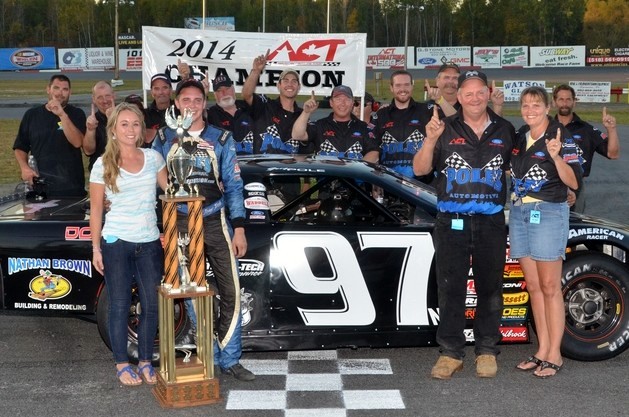 Plattsburgh, NY – Joey Polewarczyk, Jr. of Hudson, NH capped off his 2014 American Canadian Tour title with a win in the season finale Fall Foliage 200 at Airborne Speedway in Plattsburgh, NY on Saturday, September 27. Polewarczyk used the high lane to get around Quebec's Patrick Laperle on the final restart with just over 20 laps remaining in the event to take the lead and become the only repeat winner on the 2014 American Canadian Tour and claim his first career championship.
Polewarczyk took the green flag from the eighth starting position and quickly worked his way for the front as the 37 car field ran under green for the first 67 laps. Kyle Welch and Bobby Therrien both took turns leading until Wayne Helliwell, Jr. claimed the top spot on lap 25. That setup a battle between Helliwell and Polewarczyk for the next 95 laps.
The second caution of the 200 lap event flew on lap 120 for a mandatory fuel pit stop. After the race returned to green, it was the Laperle and Polewarczyk show for the final 80 laps. The duo swapped the lead a total of 6 times over the remainder of the event. The fifth and final caution flag flew with just over 20 laps left and Polewarczyk took advantage in the high lane on the restart. Laperle tried everything he could through the final laps and was right on his bumper at the finish, but Polewarczyk held him off to take the win.
Continue reading 'Polewarczyk Caps Off ACT Title with Fall Foliage Win'