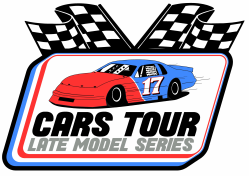 Mooresville, NC 6/21/17- On August 5th the CARS Tour will "throw it back" to the history of sport and short track racing when the tour visits the famed Hickory Motor Speedway in Hickory, NC. The race will feature special "throwback" paint schemes by competitors, traditional priced concession items, and honor several legends of the sport in attendance during a special pre-race presentation courtesy of the Hickory Soup Kitchen.
The historic presence of the event will feature 138 lap green flag races for both the Super Late Models and the Late Model Stocks. The 276 total lap count matches the 1971 and 1972 distances the now named NASCAR Cup Series ran at the .363 mile track. In addition to the race distance; a special red, white, and blue throwback "CARS Tour Late Model Series" logo will be used on all branding, including special CARS Tour official uniforms and various tour merchandise available.
The major partaking in the event will come in the form of special throwback paint schemes that will flashback to racing's past. Through a special partnership with the following graphic companies several schemes have already been developed. Over the coming days each paint scheme will be released to the public.  
Continue reading 'CARS Tour "Throwback 276" at Hickory August 5th to Honor Short Track Racing's Past in a Big Way'