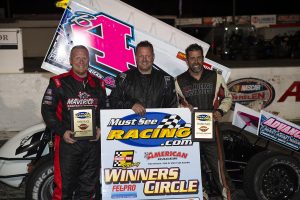 NEWTON, N.C. – After an invert of 10 placed him on the pole for Saturday night's Southern Shootout finale at Hickory Motor Speedway, Bronzie Lawson IV joked that he "might need a miracle" in order to keep the lead down the stretch.
At the end of 50 laps, Lawson used a stunning display of driving to not only get his miracle, but collect his first Must See Racing Sprint Car Series victory.
Lawson started from the pole and led all 50 laps Friday night, holding outside polesitter Jerry Caryer at bay early on and then fending off three fierce challenges from Aaron Pierce in the final 10 laps to take home a $2,000 payday.
Continue reading 'Bronzie Lawson IV Claims Emotional First MSR Sprint Win at Hickory'