Inside look at who is in contention for these divisions!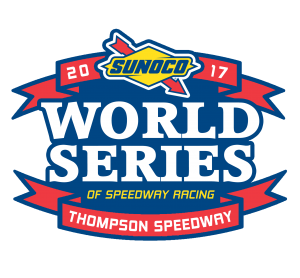 The most anticipated event of the year is upon us. The award-winning 55th Annual Sunoco World Series of Speedway Racing presented by King Cadillac GMC will be here in only hours! 18 Divisions will be taking on the 5/8 mile high banked oval competing for the greatest treasure of them all. 14 of those divisions will also be crowning their 2017 champions after. These drivers have been neck and neck all season keeping that championship dream close. The NASCAR Whelen Modified Tour, Thompson Speedway NASCAR Whelen All American Series, American Canadian Tour, Valenti Modified Racing Series, Northeastern Midget Association, Northeastern Midget Association Lites, New England Pro 4 Modifieds, Mr Rooter Pro Truck Series, Northeast Mini Stock Tour, The Street Stock Showdown Series, and International Supermodified Association, will all be crowning a division champion this year. Let's break down each division on who is in contention for the title!
NASCAR Whelen Modified Tour has a total of 5 drivers who are in points contention for the championship: Doug Coby (563 Points), Justin Bonsignore (553 Points), Timmy Solomito (551 Points), Ryan Preece (544 Points), and Eric Goodale (538 Points).
NASCAR Whelen All American Series has a total of 12 drivers who are in points contention for the championship in their respected divisions. For the Sunoco Modified Division: Keith Rocco (314 Points), Todd Owen (302 Points) and Ryan Preece (294 Points). For the Late Model Divison: Ray Parent (286 Points), William Wall (257 Points) and Woody Pitkat (231 Points). For the Limited Sportsman Division: Shawn Monahan (300 Points), Scott Sundeen (271 Points) and Brent Gleason (252 Points). Finally for the Mini Stock Division: Wayne Burroughs Jr. (307 Points), Eric Bourgeois (282 Points) and Jacob Perry (249 Points).
Continue reading 'We Crown Champions at the Sunoco World Series of Speedway Racing, 14 Division Champions to be exact'