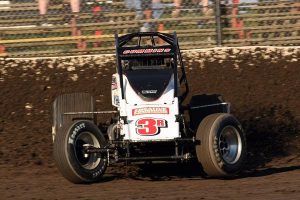 Haubstadt, Indiana………As soon as the yellow light switched on for the final caution period of the evening, Kyle Cummins devised a plan.
It was a plan born out of necessity that Cummins felt served as his best bet to compete for a victory in the closing laps of Saturday night's penultimate Indiana Sprint Week presented by Camping World round at Tri-State Speedway.
Kevin Thomas, Jr. seemingly had the event stowed away for safe-keeping after leading the first 27 circuits of the 30-lap event, but a double-dose of yellow flags in the final laps would turn the tide for Cummins of nearby Princeton, Indiana.
Continue reading 'Cummins' Last Lap, Last Corner Move Nets Spectacular Haubstadt ISW Victory'