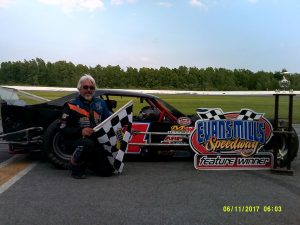 EVANS MILLS, NY – Many people spend holidays at home celebrating with their families. The true racer that he is, Vern LaFave spent this past Easter on the road instead, going to pick up a car for the debut of the Mills Modified class at Evans Mills Speedway. The trip paid off for LaFave this past Sunday, as he picked up his first win in the division.
Randy Brunelle, who picked up wins in both of the previous two races, started from the pole, alongside Mike Hall Jr. Hall Jr. got the jump at the drop of the green, but Brunelle quickly took it back, with LaFave following to take over second. The caution waved on lap six of the 30-lap race, setting the stage for a double-file restart with Brunelle on the inside and LaFave on the outside.
LaFave took full advantage of the opportunity, as he and Brunelle ran side-by-side over the next several laps, with LaFave staying just barely ahead of Brunelle. Once LaFave was able to clear Brunelle for the top spot, Terry Gardner began to challenge Brunelle for the second spot. As the pair battled behind him, LaFave was able to build a comfortable cushion.
Continue reading 'LaFave Leads Long List of First-Time Winners at Evans Mills'