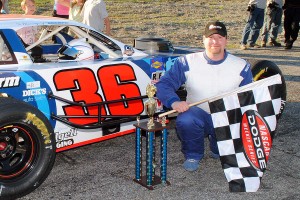 HUDSON, NH — Hudson International Speedway in Hudson, New Hampshire hosted the PASS Modified Tour for the first time, and race fans were treated to a very exciting race which featured some tight racing, and a wild flip on the backstretch.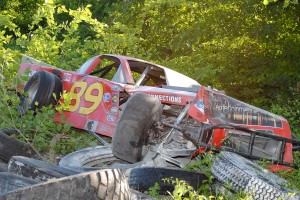 Ryan Robbins and Evan Armington brought the field to green for the forty lap main event, and the pair raced side by side until the race came to an abrupt halt on lap number five as Ryan Phillips and Mark Lucas got together on the backstretch sending Phillips up and over two times coming to rest on his wheels. After a couple anxious moments, Phillips emerged from his badly damaged racer and was diagnosed with bumps and bruises and was released from medical attention. Lucas also would be done for the night. As the red flag flew, Travis Buzzell and Scott Alexander locked bumpers, and after a lengthy caution trying to separate them, the field went back to green.
Once back racing, several teams did their best to come from the back of the pack, but the blistering pace set by Robbins, Armington and Ron Henry, did not give not give them much opportunity to crack the top five. Late in the race Armington closed to within a couple car lengths of Robbins but that was as close as he could get. The rookie driver claimed his first career, PASS win. Armington raced home second ahead of Ron Henry, Scott McDaniel and Doug McClure. Sixth through tenth were J.R. Baril, Andy Shaw, Travis Buzzell, Billy Dixon and Scott Alexander. Heat checkers flew for Robbins and McDaniel.
Continue reading 'Ryan Robbins Breaks Out at Hudson Scores First PASS Mod Win'